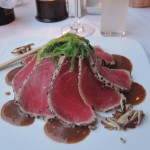 I had never been to Bagatelle restaurant in all of the time I have spent in Key West. As I recently got the Restaurant Card, with a two-for-one entree I decided to give it a shot. Overall, there were many positives and a few negatives to the dining experience.
First of all, Bagatelle is located at 115 Duval Street, across from the Hog's Breath. The location makes it a little annoying, as it is often crowded on the street, but the people watching is second to none. You get it all from the wonderful porch: cruise ship passengers, drunk people, bachelorette parties, Glamour Don'ts as far as the eye can see, and more.
The service was very good and friendly. The food is delicious and portions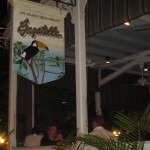 were enormous, although I do not find that a good thing necessarily.  They have a good wine list, with fair markups, as these things go.
The Pros:
Good food
Good service
Can make a reservation using Open Table
Good wine list
Nice stemware
The Cons:
Menu is not very inventive: Caesar salad, which was only OK, and seared tuna, which was quite good, although cold in the middle.
Absurd corkage ($25). I suppose they want to discourage people from bringing their own. Alas, it just discourages me from returning. We brought a 2006 Shane Valenti Ranch Syrah, which was outstanding, although still a bit young.
Overall the restaurant was good. Would I go back? If someone wanted to go I would, but I am not rushing. Although the food and service were good, I can find that at many other restaurants without having to endure lower Duval to get there, and I can bring whatever wine I want.