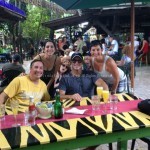 This past weekend we had friends visit Key West for the first time, other than on a cruise ship. They wanted to see and do everything, and I was exhausted just thinking about it all. We started with the highlights, and naturally, there was a lot of eating going on.
After a short stroll on upper Duval Friday night, we went to The Flaming Buoy for dinner. For three days my friend was talking about how unique and delicious his tropical stir fry was. The next day, after some morning tennis, we took them to the ubiquitous breakfast/brunch place – Blue Heaven. We warned them that we would wait a while, but at least they make a mean Bloody Mary. In a highly unusual twist of fate, we were told the wait would be an hour, but we only waited about thirty minutes.   (I put that in the WIN category.) Since the end of lobster mini season, and the opening of commercial lobster season, there were about ten different incarnations on the menu. As usual, the food was delicious. The people behind us had an awesome photobomb, adding to the humor of the whole meal.
That afternoon our friends boarded an ill-fated Conch Train, got a bit of Key West history and I sat myself by the pool. I needed to rest up for dinner at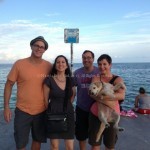 Azur (outstanding, as always), followed by Captain Tony's, Smokin' Tuna and the drag show at Aqua. I was highly amused by the Nicki Minaj-look-alike groping my friend. (He was amused, too.) This was my first experience at Aqua (how is that possible? I have no idea, either), and I have to say it was a lot of fun. Expensive drinks, but a decent drag show. I'm going to give the slight nod for humor and interacting with the audience to the 801 Bourbon drag show, though.
By Sunday morning I was not really ready for the heat that awaited me at the Bayview tennis courts. I would have much preferred to stay in bed an extra hour, but alas, all that eating and drinking and I needed to burn a few calories. Our friends thought we had walked a great deal on Saturday, so were ready to drive somewhere on Sunday. Geiger Key was the lunch spot. It is a beautiful location, dog friendly and the food is good. It was a hit.
Sunday evening, we boarded Danger Charters' Sarah for a great sunset sail. Since there are only about twenty people on board, we got to talking to most of them. One woman, from Pensacola originally, knew many of the same people as FKGuy from Birmingham, AL. It is a small world indeed.  Dinner at Santiago's Bodega wrapped up the weekend, and while did not hit all of the highlights (needed to have some pool time, you know), there is plenty to do next time they are in town.