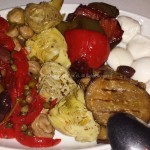 Recently, my mom told me of an Italian place they had been a few times, and suggested we go with them and check it out. When I heard the whole wine list is half price on Wednesdays, it was easy to pick a day to go. La Montanara, in Aventura, is not an easy place to find. 
On the ground floor of an office building, with a path on the side of the building leading to the restaurant, it is not the most inviting exterior.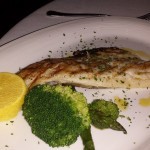 Actually, when we pulled up on Wednesday, the valet looked rather bored. But the inside of the restaurant is warm, casual and inviting. It is also a large restaurant, with a big bar area, a pizza oven and plenty of table seating.
Once seated, I picked a wine (Col d'Orcia, Rosso di Montalcino, 2011, not badly priced at $50/bottle; at half off it was a no-brainer) and began to peruse the huge menu. First of all, a pet peeve: In the front of the menu is a list of specials. Monday night is lobster night, Tuesday risotto night and Wednesday half off wine. It is cluttered and looks cheap, like something you'd expect to find at Chili's, and this place is rather pricey. Back to the menu… appetizers, pizzas, focaccia with various toppings, pastas, risottos, chicken, veal, meat and fish. Some of the veal dishes are a fairly reasonable $22-25, whereas the steaks are in the $40-50 range.
We started with an antipasti platter with vegetables, mozzarella and some strange, hard boiled quail eggs. The vegetables were outstanding. Salads were good, and the bresaola with arugula and Parmesan cheese was outstanding. The entrees at the table included a veal scallopini pizzaola, with a red wine tomato sauce that was good, grilled branzino which was outstanding, and I had an appetizer of eggplant Parmesan, which was delicious.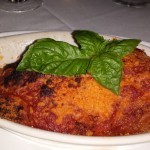 Overall, our meal was very good. Both food and service were excellent. The question is, would I go back? I would, although I do think the menu is a little strange, and it seems a bit pricey, although our meal ended up very reasonable. Half price wine night (Wednesday) is certainly a good time to check it out.
La Montanara is located at 18851 NE 29th Avenue, in Aventura and is open for breakfast, lunch and dinner Monday through Friday, and lunch and dinner only on Saturday and Sunday. When you pull up, it will seem as if you are going to a deserted office building. That is the right place.