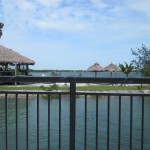 A few weeks ago when a friend told me I should try Zaza's, my response was "Eh, I never want to dive that far for lunch," as if the 17 mile drive to Sugarloaf Key would kill me. Then I found myself driving south from Hollywood, in Sugarloaf, at lunchtime. It seemed like a good idea to stop in for a bite. 
Of course, this was on the heels of Hurricane Sandy, which fortunately did not come our way, but she did make the day quite breezy.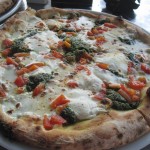 Normal people would have sat inside on the cool, blow-the-salt-shaker-over windy kind of day, but we had Babka with us, so outside we went.
We had a lovely table overlooking the water and friendly, competent service. Looking over the menu, it was hard to decide, as they have so many choices: salads, sandwiches, pastas and of course, pizza. We opted for two pizzas, largely because it just was not a salad kind of day. That, and the day of the Fantasy Fest Masquerade March, when we were bound to have many margaritas, we knew we should eat more than just lettuce.
We ordered the pesto pizza, which came with tomatoes, ricotta and mozzarella, as well as the margarita pizza. I know I have said it before, but I think pesto should be its own food group. On the culinary spectrum, it is that important. I planned an entire trip to Italy around going to Liguria, just so we could eat more pesto. (OK, you probably didn't need to know quite that much.) Zaza's pesto was homemade, delicious and plentiful on the pizza. The only thing I would possibly change about the pesto pizza is the ricotta. There was a lot of it, but it but it made the pie a little soggy. Otherwise, the pizzas were crispy, though not overcooked, and delicious. Crusts are slightly thicker than some other places, and are the perfect balance of chewy.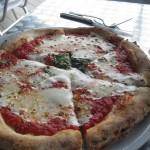 The interior at Zaza's is lovely – I really loved the colored glass sinks in the bathrooms, but felt a little too nice to me. In the Keys we don't need a giant mall-sized restaurant with granite and glass. It was very snazzy, and beautiful, but possibly a little too much for the Sugarloaf Lodge and the Keys in general. I guess that is better than it being a total dump.
The inevitable question… would I go back? Absolutely. In a second. It is delicious and the service was excellent.