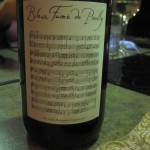 On the 24th of this month (yes, that is Christmas Eve), I will celebrate my birthday. A big birthday. There will be several dinners with friends and no grand party (we already did that for FKGuy's birthday earlier this year. It was a lot of work.) There will also be a vacation in advance of the birthday (the cruise blogs will begin next week. Stay tuned.)
Last weekend we had an early birthday celebration with a few wine geek friends. We went to the always-fabulous Il Mercato in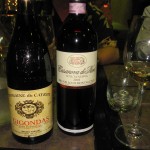 Hallandale and had a great time. Six people, loads of food, and a healthy (well, maybe not) amount of wine. We enjoyed a round of appetizers, including grilled baby artichokes, gruyere spaetzle, mussels with truffle fries and baked brie with apple and cranberry chutney. I think the chutney was the only component I didn't really enjoy, as it was just a little too tart.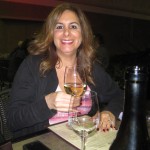 We moved on to both a pasta course and entrees, including at the table my favorite, penne arrabiatta, papardelle bolognese, fettucine with mushrooms and goat cheese followed by lamb shank, chicken schnitzel, steak, and scallops. I believe there was also a chickpea salad thrown in along the way for good measure.
As for wine, we started with a Dagueneau Blanc de Fume Pouilly (I have no idea the vintage), which was surprisingly full bodied for a sauvignon blanc. I was saying these very words aloud when I noticed the man at the next table giving me the evil eye. My return stare said "What? Can a girl with pink streaks in her hair know about wine? Harumph."  I'm not sure if he got the entire message.
We continued with a 1989 Domaine du Cayron, Gigondas (mmm… earthy), a 2001 Cassanova di Neri Tenuta Nuova Brunello di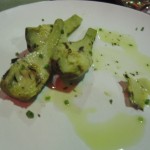 Montalcino (there is good reason it was the Wine Spectator wine of the year a few years ago), 2004 Vega Sicilia Pintia (I must have more of this in my life), 1997 Banfi Brunello di Montalcino (I can't have enough good Italian wine… especially from our wedding year!), and the 2008 Shafer Relentless (Wine Spectator's wine of the year this year… a good wine night indeed)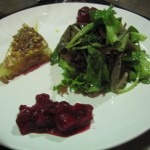 I was full just looking at my plate, but alas, we seemed to need dessert, too. Chocolate pot de creme and cannolis were on order for this crowd, all to go with the 2003 Chateau Rieussec, which was the high point of dessert for me.
Overall, a great night with great friends. I am looking forward to many, many more (after ample birthday celebrations this month, of course).