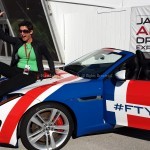 Continuing my trend of driving exceptionally fancy cars this week, I want to share my recent experiences behind the wheel of several different Jaguars. I could start by telling you about the horsepower (somewhere between 380 and 500, give or take) and the torque, but if you've read my last post on the Chevy Corvette, you would know I have no idea what I am talking about. 
Instead, I'll focus on the things I do know. #1. To say that it seems unlikely that I will ever own a $100,000 car is a pretty gross understatement. But, #2.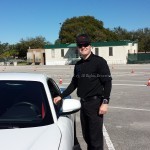 The cars are really cool.
Jaguar Alive Driving Experience was set up at Sun Life stadium, with three different tracks showcasing different cars and unique features. Each attendee got to drive on all three tracks, with a professional race car driver in the passenger seat. OK, I'm just going to dwell on this for a moment. I drove with not one, but three, professional race car drivers. On the first course, we tested out dynamics. I drove the XKR and XFR through a couple of laps around a slalom-like course. Those engines had a lot of pep.
Next up, my least favorite course: technology. Here I took the XJ sedan up an down an icy hill. Yes, I was still in Florida. Yes, it was 75 degrees outside. Yes, there were icy conditions. The Jaguar people set up a hill using the same surface as portable ice skating rinks. (This is the first I have heard of ice skating portability). Just as a refresher… I am a native Floridian. When I was in college in St. Louis and it snowed, I simply ignored my car until the snow melted. I do not drive in snow. I let my husband and friends enjoy driving at our friend's wedding in January in Detroit. I do not drive in icy weather. When we visit our friends in Park City to ski, I avoid driving like the plague. Get the picture? So when the race car driver told me to hit the gas, hard, at the top of the icy hill, I ignored him and inched my way over the top. (Please keep in mind this "hill" was about eight feet high.)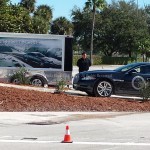 After much eye-rolling on the part of Mr. Fancy Pants Race Car Guy, he explained. "I wanted you to see how the stability control functions work in unstable conditions." Turns out, he was not trying to kill me. My bad. On the next go round, I actually did accelerate, the car spun, then righted itself. It was really impressive. Yet somehow, I can live without doing that again.
Onto the Performance station where we got to drive the new F-Type convertibles. Woohoo! I had been waiting all morning for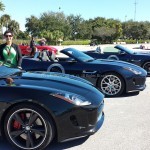 this. I started in the V6 version which was peppy, easy to drive and really comfortable for the two people that could fit int he car. After a couple laps in that one, I was ready for the gazillion horsepower V8. Oh. My. That is one awesome piece of machinery. It is beautiful, fun to drive and hard to leave on the course. Now, if only I can get them to let me test drive one for a week (or a year).