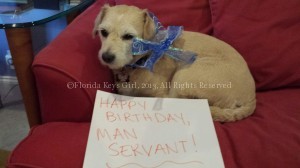 Today we celebrate FKGuy's birthday. Happy 42nd birthday! While we do a pretty good job of celebrating and enjoying life on a regular basis, today we'll have an extra celebration. When I asked where he wanted to go for dinner, FKGuy requested that we stay home and have a few friends over. So that is exactly what we are doing.
We will celebrate with an Italian themed dinner, and on the menu for tonight:
Assorted Italian cheeses
Tapenade served in endive leaves
Caprese salad with pesto dressing
Pasta cacio e pepe (quite possibly one of our favorite, yet simple dishes of pasta with grated cheese and pepper. Tonight's version has 3 cheeses, diet be damned.)
Roasted grouper with Livornese sauce, and assorted roasted vegetables
We'll finish the meal with chocolate mousse shots and individual apple pies.
Wine is yet to be determined, but will also be Italian. We are looking forward to a wonderful evening with friends, family and good food. Photos to come next week.