Friends emailed us last week to see if we were available for a wine dinner on Monday night. Knowing we would be driving from Key West to the mainland, being exhausted by dinner time was  a certainty. Yet the lure of seeing good friends was too great, so we agreed to go. At the time, I had no idea we would also be dog-sitting a playful, energetic Puggle named Bella. (Walking three dogs, instead of my usual two, added to me being completely tuckered out by dinner time.) 
I forged ahead. Several of us took Ubers to the restaurant, and the fun began. Ten people, eleven wines and good food make for a fantastic night. The folks coming from Miami faced gridlock, and were late, so by the time most people had arrived, I began campaigning hard to order appetizers, you know, "for the table." I was ravenous and had eaten a small salad for lunch, so anything that would get me closer to a large cheese plate and burrata salad was a good thing. We had already started with a bottle of 2010 Jermann Vintage Tunina, a light, fruity and pleasant way to start the drinking.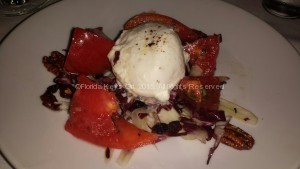 You can never have too much cheese.
We began the meal with a charcuterie plate, including a goat cheese, smoked blue cheese and a Manchego-like cheese, along with an assortment of meats. In addition, we enjoyed ceviche (which is always a treat at Market 17), the aforementioned burrata salad (gooey, creamy cheese, served with tomatoes and topped with salt is a great pleasure), flatbread with some sort of sausage, beef tartare (I tried it. It was fine. I am just not a beef tartare kind of gal, as it turns out.)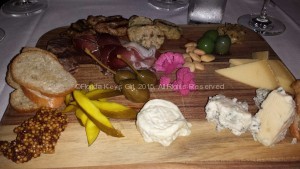 The next wine up was 2004 Domaine Jean-Louis Chave Hermitage Blanc, which had a very oily mouthfeel (that's wine geek speak for "it was kind of an odd texture"), but the flavor profile was quite good.
As we were indulging in the white, one of my friends decided that we did not have all night, and needed to get things moving along. He brought the first four red wines to the table: 2010 Domaine Serene Evenstad Pinot Noir (always a big winner), 1993 E. Guigal Cote Rotie, La Turque (did not suck; paired particularly well with the smoked blue cheese), 1999 M. Chapoutier Ermitage, Le Pavillon (really good stuff), and the 2001 Paul Jaboulet Hermitage, La Chapelle (full of tobacco, smoke and berry flavors; a "wow" wine).
Even with all the amazing reds, I knew my entrée choice had to be the tuna. It sounded too good: seared rare, and served with green harissa (also not the best choice for red wine pairings, sigh) coconut rice and pineapple chutney. It was outstanding. We have been to Market 17 a few times, usually at the suggestion of others, and the food has historically been inconsistent. Last time FKGuy and I ordered the same thing and mine had to go back because it was raw. This time, however, things were perfect. The kind of perfect you think about long after you have scooped up the last kernel of delicious coconut rice.
But it did not end with perfect tuna. We had more wine. A 2001 Leoville Las Cases (which needed to be decanted for a good, long time. We did not decant, and the wine did not show well. It needs much more time, it seems.) We had a 2008 Clos Mogador (I love, love, love this wine), a 2007 Carlisle Two Acres (we brought this, and usually it is phenomenal, but when compared with the other great wines of the evening, it didn't stand a chance. Oh well, we have another bottle.) The last red of the night was a 2011 Paul Hobbs Cabernet Sauvignon (typical Napa cab, and delicious, but very young).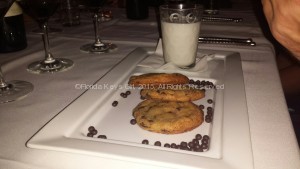 It was one of those nights that I really wanted dessert. Most people at the table ordered cookies and milk, and I will admit (as I ate half a cookie off my friend's plate) that they were divine. Buttery, crispy and still chewy. I ordered the banana creme brulee, which was good, but not nearly as good as the cookies. My dish did come with chocolate and hazelnut covered banana slices, a heavenly touch.
The last wine of the night was a 1990 Schloss Somberg Hattenheimer Nussbrunnen Auslese. Good luck saying that out loud.
Overall, it was a marvelous evening filled with great friends, delicious food (I'm looking at you, seared tuna), and outrageous wines. I can't wait to do it again.