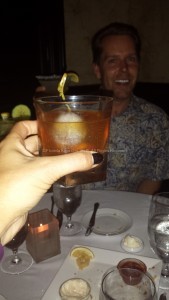 I'd been to Tavern N' Town exactly once, for Mother's Day brunch over five years ago. It was good then, but we had never made it back, largely because we have to drive to get there. On the other hand, I am always delighted when we make plans with friends and someone else comes up with the plan. As someone who is always tasked with planning, it is refreshing when I can just go with the flow. So, when our friends suggested Tavern N' Town (and the awesome ongoing local special) we were in. 
Tavern N' Town is located in the Marriott Beachside hotel, just as you arrive in Key West. It is a beautiful, clubby, if impersonal space. The restaurant is huge, and not so tropical. It could be anywhere. Plus, they have televisions around the rooms, and frankly, a place with $40 entrees just should not. At the bar? Sure. In the restaurant? Nope.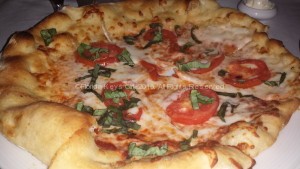 OK, rant over. Now onto the good stuff… Happy hour exists until 6:30, which means even if you are seated at a table, it is 2 for 1 cocktails. Try the Old Fashioned, it is truly a great drink (especially the second one). We were with friends, and in no rush, so we started with the fried calamari (good) and a Margherita pizza. Apparently, they have a real pizza oven, and the pie was delicious. It takes a lot for FKGuy to indulge in carbs, and this one was completely worthwhile.
Caesar salads were crisp and tasty. For dinner, I enjoyed the filet, cooked a perfect medium rare. Although it is normally served with fingerling potatoes, I enjoyed the five onion potato gratin, instead. FKGuy chose the prime rib, which turned out to be equally delish.  One of our friends tried the swordfish special, over noodles, and was equally pleased.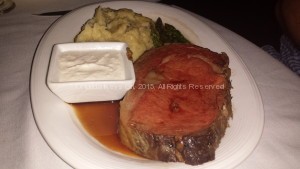 Overall, dinner was very good. The food came out exactly as expected (tasty!) and the service was attentive. Other friends had been to Tavern N' Town the week before and complained that the service was extremely slow. Our experience was that it was somewhat slow, but we told our server that we were in no rush and wanted to relax and catch up with our friends.