To most people, May means Mother's Day, Memorial day (the first day off since February! Woohoo!) and the beginning of summer weather. In Key West, however, it means something entirely different: the snowbirds begin their trek back up north, and the Key West Songwriter's Festival comes to town. Oh, and the weather turns steamier than normal. 
This past weekend was the Songwriter's Festival and, in an unusual twist, the weather was cool, sunny and not at all humid. It was fantastic all around.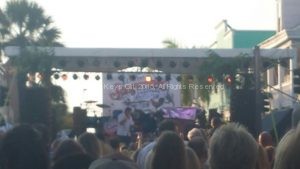 The festival is now in its 21st year, and each year brings five days and nights filled with music to bars, hotels, and stages all over town. With thirty-three venues and between fifteen and forty-five performances each day, there is a lot to see and hear. Though some performances do require tickets, the majority are free of charge.
We were going to stop into Margaritaville, as they always have good music, but the weather was too good to be indoors, so we were off to the Smokin' Tuna instead. Both bars were packed, seats by the stage taken, and there was a line for dining tables. It was a popular spot. Fortunately, I snagged a couple of empty bar stools and we were able to enjoy the set from a comfortable seat.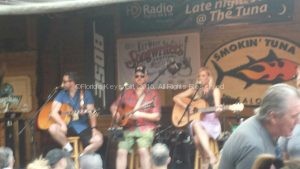 Meanwhile, a block away on Duval Street, the energetic crowd at the main stage was three blocks deep, eager to see Jake Owen, Kane Brown and LANco. We caught a bit of the early show as well as the late show, and the audience was enjoying every second of it. The outdoor stage, smack in the middle of Duval Street at Greene Street, turned out to be a perfect venue.
Key West Songwriter's Festival is as unique as the island itself. With up and coming musicians, as well as established names, there is an opportunity to see new acts, experience fantastic venues both large and small, and learn about artists you might otherwise never hear. I'm already looking forward to next year.