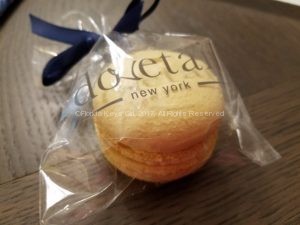 Mother's Day Brunch takes brunching to a whole new level. There are annoying people to contend with, family drama, and hard-to-get reservations. Fortunately, we encountered none of that. Our sunny, chilly morning started off at a baseball game starring my favorite 12-year-old. (He hit a triple. Should have been a home run. He was clearly robbed.) From there, a leisurely stroll to our destination didn't even require a jacket.
We enjoyed the glorious sunshine, the weird flea market on 76th and Columbus, and meandered our way to Dovetail for brunch. I'll admit, when I saw the menu for the day, the following conversation ensued:
Me: $72 for eggs? Seriously?
Friend: You're not paying, so no complaining. Plus, they had a reservation available. 
Me: You mean people aren't banging down the door for a $72 omelet that doesn't even come with a mimosa? 
Friend: Well, it seems people are… we couldn't get a table until 2 PM. 
DOVETAIL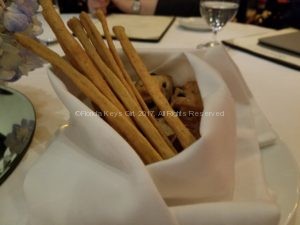 Our table for seven was seated downstairs in the wine room, and it was beautiful and quiet. We had the room to ourselves. The brunch menu was stunning, as one would expect from a Michelin-starred restaurant. FKGuy and I both had the bottomless mimosas, mostly because they were available, and came with a selection of mixers.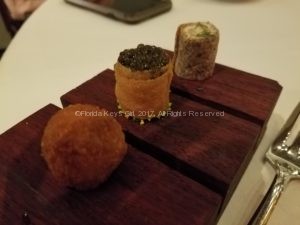 While the brunch was billed as a "three-course" menu, it really wasn't. After asking about allergies, bread, mini scones, breadsticks, and beautiful, soft butter came out. I don't know what it is about Michelin-starred restaurants and their butter, but the few times I have enjoyed such excellent places, the butter is always a perfect consistency. (Yes, I love butter. So?) Next, we were each brought out a selection of three small hors d'oeuvres. The mini truffled arancini, caviar, and salmon crepe were all delightful.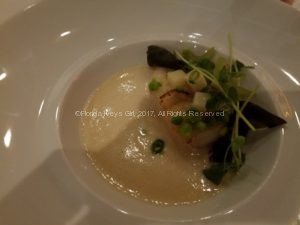 It took a while to get the canapes, and so while we were still enjoying them, our entrees came out as well. It's a little thing for sure, but at this level, I expected better service. On the upside, the food was delicious. I enjoyed a roasted cod with spring peas, while FKGuy chose the lamb shank lasagna. The fish was damn good, but indeed, more places should offer a lamb shank lasagna. It was simply to-die-for.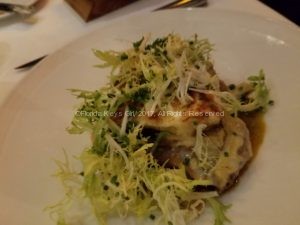 A trio of miniature desserts rounded out the meal, including tiramisu, raspberry pannacotta and a hibiscus cream puff (that also tasted like raspberry). Our meal was delightful, the food was good, and the service, while good, was not great. And it should have been.
As we emerged from the basement into a slightly overcast day threatening rain, we strolled back to our friends' apartment. I had just consumed an entire bread basket simply because I liked the butter. Obviously, I needed a walk.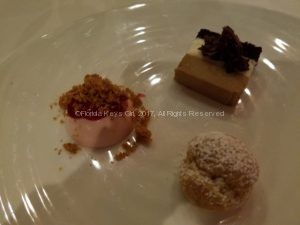 Bonus! As we departed, each one of us was given an individually wrapped macaron. (Pro tip: A single, stunning macaron makes a perfect breakfast.)
LEFT BANK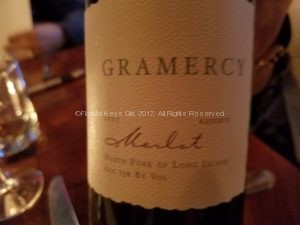 A couple of hours later, we made our way downtown to meet friends for dinner in the West Village. As that was our first neighborhood home in New York, many years ago, we spent a while strolling the old 'hood before meeting up.
Our friends introduced us to the Left Bank, which in one visit has become an NYC favorite. It did not hurt that we were there on a Sunday when free corkage is offered. Left Bank is small, casual, and a bit boisterous. It is everything a bistro should be, complete with fantastic food.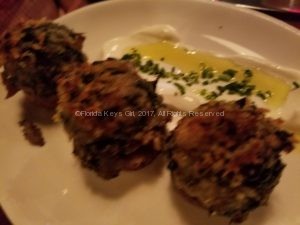 Baked, stuffed mushrooms with spinach and sour cream started our meal, along with a shaved Brussels sprout salad. Both were comforting in their own way, tasty, and left me wanting more. I could not resist the cacio e pepe, an all-time favorite of mine. Their version of the classic Italian pasta dish, simply prepared with black pepper and cheese, did not disappoint. My empty bowl told the tale.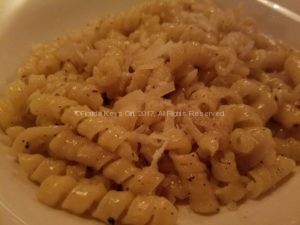 FKGuy enjoyed the roasted chicken served with ramps and potatoes, in what would become the first (but not last) time we would enjoy ramps on this trip. The season for ramps is painfully short, and I don't think I have ever seen them in Florida, so we enjoyed every bite of the fresh spring onions. Full and happy, and in no way wanting to face the subway, our friends drove us back uptown.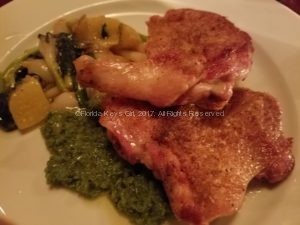 With a belly full of pasta, I slept very, very well that night.
MOTORINO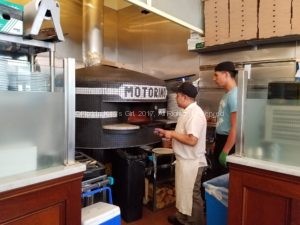 The next day, we would head home, but not before a last lunch with our friends. Since it was the day before FKGuy's birthday, and we started the celebration early, he decided on pizza. (Note to self: probably should have skipped the pasta the night before.)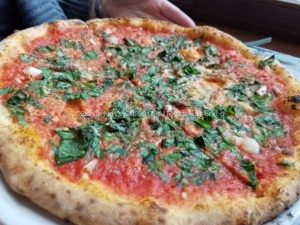 Motorino, a Brooklyn staple, recently opened on the Upper West Side. Here's the thing about pizza: even mediocre pizza can be satisfying, but if you eat it as infrequently as we do, you want to enjoy the best. And we did. Motorino is small, with only a handful of tables and a kitchen only slightly larger than my first kitchen in Manhattan, which is to say, teeny.
The lunch special includes a salad and pizza for $15, and to that, we added an appetizer of artichokes in butter and lemon. The day was off to a good start, despite the early morning packing for our return to Florida.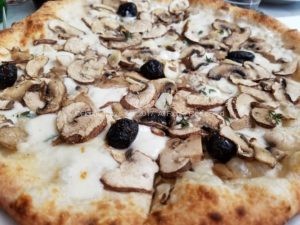 The four of us each ordered a different pie so that we could sample all of them. I opted for the white pizza with mushrooms, salty black olives, and garlic, sans sausage. FKGuy chose the Margarita, while my friend Bill ordered a similar pie with mushrooms. The big winner, however, was Sara. Her pizza came with red sauce, pecorino, and fresh ramps. The ramp-covered pie was spectacular. Each pie had a perfectly baked, chewy crust, and a good proportion of toppings.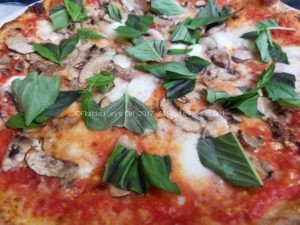 Service was friendly, but more importantly, the pizza was outstanding. We will most definitely be back on every subsequent New York trip. Add Motorino to your list of musts. While we visited the Upper West Side location, they also have locations in the East Village and Brooklyn.