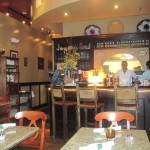 My Spanish sucks. It is more than a little embarrassing for someone who has spent as long as I have in South Florida. However, when I couldn't pronounce the name of an absurdly good Mexican restaurant recently, I learned the name is actually Mayan, and my Mayan is significantly worse than my Spanish.
Chéen- huaye, which means "only here" in Mayan, is pronounced "chen-wa-yeh". I can tell you what I can pronounce: delicioso.
This unassuming little restaurant in a strip mall in North Miami has charm, character and great food. We started with the rollitos de aguacate, which are like tiny little chimichangas filled with avocado and pico de gallo. Wow. They were soft, doughy outside with creamy wonderful filling inside.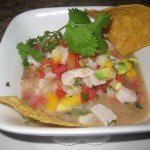 We also had the ceviche (pictured here). You can have it any way you want it – tuna, mahi, shrimp or a combination of all three. We had the mahi, which was a fabulous, fresh and flavorful dish. They do not skimp on the avocado here, either.
For our entrees we had mahi fajitas, made with blackened mahi and served with rice, beans, cheese and pico de gallo all in little ramekins. This is the perfect dish if you have OCD and can't have your food touch each other. Plus, it is damn good.
Adding to the fun, were the vegetarian enchiladas. These are filled with zucchini, portobello, green pepper and onion as well as melted cheese. They are wonderful on their own, not like so many vegetarian dishes which are sometimes an afterthought on the menu. Not these. The tomatillo sauce added a zing.
According to Florida Keys Guy, you should "run, don't walk" here, it is just that good. I, for one, cannot wait to return. Chéen-huaye is located at 15400 Biscayne Boulevard, in North Miami and does not take reservations. They also allow corkage for $15.