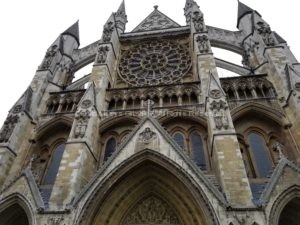 Another morning, another gorgeous stroll, this time to Westminster Abbey. We got there just before the 9:30 AM opening, and with advance tickets, we were in and exploring early. Westminster Abbey is not only a fully functioning church, with several services each day, but also a burial place for over 3,000 people, including seventeen Monarchs. Later in the day, we once again proved that the long held idea that British food sucks, is simply wrong. 
Pro tip: Get the audio guide (It's free.)  The amount of history available via an easy to use audio guide is astounding.
From Westminster Abbey, we made our way to the Notting Hill neighborhood. Sadly, we didn't see Hugh Grant, Julia Roberts, or his adorable travel bookstore. We did, however, see many lovely homes, as well as the Portobello Road Market. Lining Portobello Road are adorable, independent shops, antique stands, and many, many street vendors.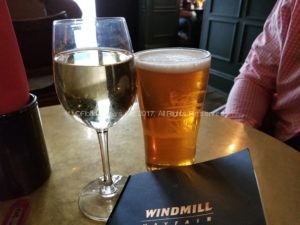 Our attempt at lunch failed, as the place I wanted to go was closed, so we headed back to Mayfair and The Windmill pub. Famous for their pies, I was looking forward to good British pub food.
Pro Tip: Brits eat lunch later than Americans, so expect places to be busiest around 1 – 1:30 PM.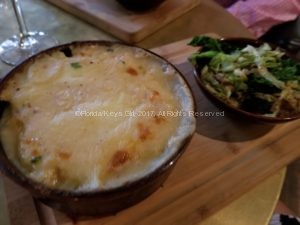 Young's Bitter beer for FKGuy and a glass of Sauvignon Blanc for me, set the mood for a perfect, casual lunch. Of course, we ordered pies: fish pie and shepherd's pie, and we shared them both. Fish pie is my new favorite food. This version, creamy and filled with salmon, haddock, and crayfish, all topped with a cheddar mashed potato. The whole thing is served with buttered greens. Oh. Em. Gee. That is good stuff. A month later, I am still talking about how good it was and am in search of a recipe that will allow me to duplicate that delicious experience. The shepherd's pie was also fantastic, with slow cooked lamb and cheddar leek mashed potato.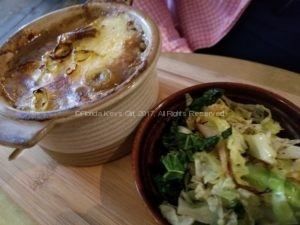 Let me tell you this: The notion that British food sucks, is very, very wrong. These pies were some of the best comfort food I have ever had, anywhere. If only we were in London longer, I would have gone back for another fish pie. It would not have helped me fit into my pants ever again.
A heavy (amazingly delicious) lunch is the quickest way to a glorious, refreshing afternoon nap.
Dukes Bar: Shaken, not stirred.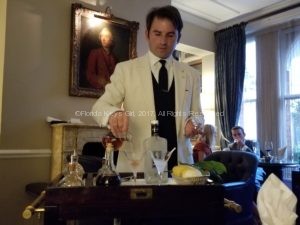 By the time evening rolled around, we knew we would not be hungry for quite a long time, so we did the only sensible thing: have cocktails. After all, one of the most famous cocktail bars in London was in our hotel, Dukes Bar.  Famous for martinis, the staff at Dukes Bar brings around a cart to hand craft each cocktail. It is rumored that this is where Ian Fleming got the inspiration for James Bond's preference for his martini shaken, not stirred.
The cozy bar seats only a handful of people and is available by reservation only. Somehow we snuck in for a beverage while lacking a much-coveted reservation. FKGuy's classic martini and my tequila-and-sherry concoction were both outstanding and served with a little nosh of olives and nuts.
Of course, perfect, old school cocktails handmade from a trolley, enjoyed in cushy club chairs come at a price (about £20 each) so after indulging in one each, we moved on to another location for a more affordable second round.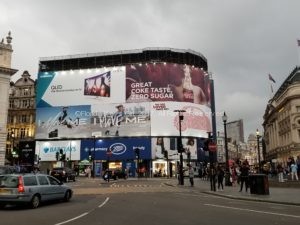 One enters The Blind Pig, located above the Social Eating House, through an unmarked door with a pig head knocker, underneath a sign for an optician. Inside, the selection of carefully crafted, unique cocktails enhances the festive atmosphere. I opted for the Half a Pint o' Buttah, a butterbeer-like concoction made of scotch, Kamm and Sons, thyme, butterscotch, beer,  and bitters. Delicious. FKGuy chose Mr. Tumnus Tipple, with Hendricks Gin, rose, sherry, chocolate bitters and tobacco essence. The cocktails were both inventive and tasty, but if you are going to stop in, it is best to have a reservation. (I have never seen so many bars require reservations.)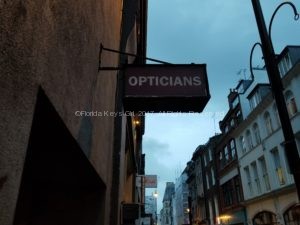 After a couple of drinks, we were almost ready to entertain the idea of dinner. While still somewhat full from lunch, I could not pass up the opportunity to try yet another fabulous place. Lobos tapas turned out to be a perfect choice, where we enjoyed cheeses, prawns with chili and garlic, croquetas, and patatas bravas, all with a crisp Albarino. Lobos occupies a tiny space, and the tables are crammed together in very close quarters. The food and service are excellent, and prices are reasonable. Win!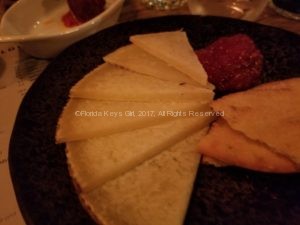 A wonderful day roaming around London can only be capped off one way: with more wine. Cork and Bottle wine bar, down a spiral staircase the cozy wine bar invites customers to stay for a while. We happily did. We left Cork and Bottle heading back to Dukes, reflecting on yet another perfect day, and wondering how we got so lucky to enjoy perfect weather every day so far.