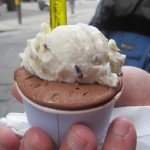 If you were my Facebook friend, or followed me on Twitter a year ago, you would have seen my gelato play-by-play. It was the ten-day, try as many as possible, three a day, gelato fest. It was good.
Some were better than others. My friend in Florence like Grom the best. Although Grom is good, it is no Vestri.This is a chocolate shop, mind you. Gelato is not their primary business, but I argue that it should be.
So, when we got off the train (avoiding a hefty fine for no tickets by the skin of our teeth), left our bag at the train station overnight, had lunch with our friend and had two hours to spare, where did we go? You guessed it: Vesti. I was a bit disappointed that they did not have the dark chocolate orange I had last year, but pleasantly surprised by the dark chocolate with fresh mint. Hellooooooooo.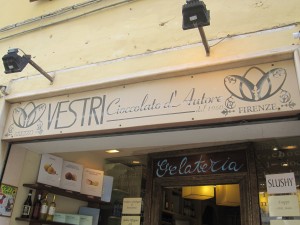 Alas, we could not spend the entire afternoon sitting on the bench outside Vestri eating gelato, so we entertained ourselves by wine shopping. The find of the day was Enoteca Alessi, and I will admit that we found it on a recommendation, not all on our own. Down the stairs, in the back of the shop is a glorious wine store: new releases, aged bottles, all stored in a pristine environment. We ended up with a 1998 La Spinetta Pin, 1999 Il Bosco Tenimenti Luigi d'Allessandro Syrah from Cortona – yes, the Under the Tuscan Sun place, a 1996 Falchini Campora and 1998 Ripa del Masse.
After making our purchase, we were off for our one evening in Florence. Turns out, our one evening in Florence was one evening in Chianti, specifically San Casciano, at a restaurant called Osteria Caffe del Popolano.
It was a lovely local restaurant in a charming little town. The menu, while not huge, had something for everyone, including basil ravioli in sage butter for me. The ravioli were filled with chopped basil, and a hefty amount of butter. My nearly-vegetarian friend swears by the Peposo, which is a beef stew, claiming this is the only place she will order it. The meal was made complete with a bottle of 2006 Tenuta Friggiali Rosso di Montalcino.
Alas, when the meal was over, we were back to Florence for a few hours of much needed sleep, before boarding our train to Civitavecchia to get to the much anticipated Seabourn Spirit. More on that later.