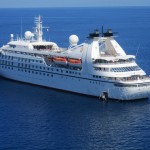 Despite what I was taught as a child, I have no problem talking to strangers. I can make conversation, whether appropriate or not, with just about anyone. The first night we were on the cruise, not knowing what to expect (and napping until well after 8PM) we arrived to the dining room on the later side and were asked by the Maitre D' if we wanted a table for two or if we wanted to sit with other people. I figured it couldn't hurt, we can sit with some strangers.
We were seated at a large table, but ended up being only 4 of us. We were joined by a lovely couple, Robin and Neil, from New Jersey. As such, we had people to talk to for the rest of the trip. We met others, of course, along the way as well.
Seabourn knows that not everybody is so comfortable meeting people. So,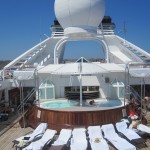 they have "hosted tables" in the evenings. An invitation is delivered to your room during the day and you are invited to sit with an entertainer, a cruise director or some other member of the crew. This is done as a way for the crew to get to know you and as a way for you to get to now your fellow passengers. It's genius.
We had dinner one night with Anthony Mitchell, the classical guitarist/Assistant Cruise Director, along with another couple, in their late 80s (they were celebrating their 60th wedding anniversary onboard). We were the last to arrive at the table (we were on time) and there were place cards put out. Someone had put me down as a Mr. (What part of Florida Keys GIRL makes me seem like a man?) and so I was seated next to Mrs. Clayton-Smith. Well, Mr. Clayton-Smith was incredulous – he had no interest in sitting next to Florida Keys Guy, and made him swap seats with me, much to the amusement of the entire dining room staff.
All in all it was a lovely evening, when we disembarked in venice, Anthony handed us our passports – no need to tell him our name. And when we ran into the Clayton-Smiths ashore, we were able to provide them with directions to the church as well as a cafe.