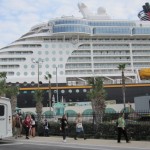 Last week, in the post-marathon madness (read: soreness) I had the opportunity to tour the brand new Disney cruise ship, the Dream. To say it was incredible is kind of an understatement. This is not the biggest cruise ship in existence, although it does hold 4,000 passengers. But for a family with kids, or adult Disney fanatics, this is an incredible vacation opportunity.
Disney incorporates some unique features to their cruises. Number one, no casino on board. If you want to gamble, go elsewhere.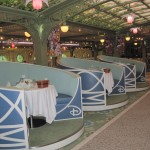 Number two, three main dining rooms. Each passenger is assigned a table number and rotate through three different themed dining venues each night. The wait staff travels with you so you have the same waiter each night, but a different menu choice and different ambiance. It is a very nice feature. Additionally show times are assigned based on dining times, so if you are eating late, for example, you are assigned an earlier, pre-dinner show time with all of the top-of-the-line Disney entertainment you would expect.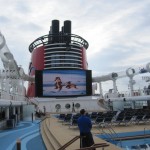 Number three, Aqua Duck, the water coaster. This is a 765 foot, fully enclosed water coaster, with rafts that can handle two passengers each, and includes a four story drop before depositing you in the lazy river. Seriously, it's cool.
Much space is dedicated to the kid's clubs. There is one for each age group, and the younger ones can be tracked with their Mickey band bracelets (and RFID technology) as they enter and leave the clubs. Bonus: no additional cost for these state-of-the-art children centers. There is even an It's a Small World nursery for the tiny ones (at an additional charge).
The staterooms have, for the most part, split bathrooms – one room with a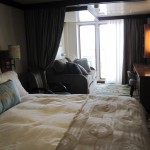 toilet and a sink and another with a shower and a sink – perfect for families. Even the inside cabins were well though out with a "porthole" video screen linked to a camera, so you can "see" what is going on outside from a deck cam. (I told you this ship was cool!) For a truly special vacation, why not try a concierge-level stateroom, or a multi-bedroom, superbly-decorated suite?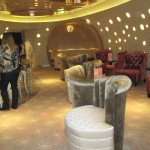 Adults will not be bored, either. There is The District, an adults-only entertainment area with Pink, a champagne bar, Evolution, a nightclub, and Skyline, a bar that has views of five different cities, changing daily. Naturally the cocktails and nibbles change to match the city views.
Dinner is not limited to the main restaurants, as there are two specialty restaurants aboard. Palo, an Italian-inspired menu ($20/person cover charge) and Remy, a truly elegant French venue ($75/person or $174/person with wine pairings). These Adults-only restaurants are perfect venues for parents to enjoy while their children are being entertained with their peers.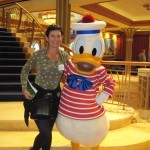 All in all, the ship is amazing. If you need more information about it, please do not hesitate to contact me. If you are looking to book a cruise, or other vacation, please let me know how I can help.