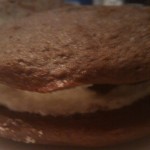 I watch Top Chef all the time. Every season. Every incarnation – All Stars, Just Desserts, Masters. I also watch the Food Network and Travel Channel for cooking and eating shows. One thing I have noticed of late is everyone's obsession with the whoopie pie. I can't even tell you how many times someone made a version of a whoopie pie on Top Chef Just Desserts. It was all a little annoying, especially since I have never had a whoopie pie.
In the most recent issue of Bon Appetit I saw a recipe for chocolate mint whoopie pies. These are cake-textured cookies and in the middle is a layer of chocolate ganache and mint frosting. How bad could they be? After staring at this recipe for a while I decided to make them last night for the book club gang. The book sucked, so we might as well have some good dessert. (Incidentally, I made dinner, too, so the food was all-around yummy!)
This recipe was pretty easy, if a little over the top: "bake one sheet of cookies at a time" Seriously? How much time does this person think I have? I am pretty sure that at Gourmet Whoopie Pies in Granville, Ohio (where this recipe originated) they bake more than one tray of cookies at a time. Otherwise there is a serious flaw in the business plan. My two-trays-at-a-time-because-that-is-all-I-could-fit-in-the-oven method worked out just fine.
The other thing is that she adds green food coloring to the mint filling. It is 2011. I'm pretty sure we can figure out that it is mint simply by tasting it. Needless to say, I did not add  food coloring to my whoopie pies and they still managed to be minty.
One last thing: she says to store these at room temperature for up to 2 hours before serving. Clearly she does not live in Florida. My "room temperature" and hers are probably very different. Alas, after leaving them in the fridge for a while while we had dinner, they turned out great.
It leads me to a grand plan of testing out new and fabulous whoopie pies. the filling possibilities are endless. But, much like the cupcake trend, I am once again late to the party.