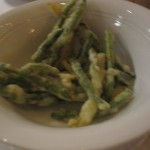 As we were planning our trip, my friend asked us what we would like to do while visiting them. Dining at Frasca was top of my list. "That is the best restaurant in Boulder," she says to me. Yes, that is precisely why I want to go. She could not get a reservation online so I called about a month ahead of time and secured our table.
We arrived and were seated promptly. Our server came over and was very friendly. One of my pet peeves in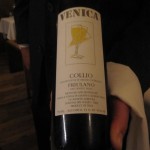 restaurants is when a sommelier comes over and tries to sell me something really expensive, even if it is not what I want. Or, when the "wine person" comes over to the table and it is clear that he or she has limited wine knowledge, yet tries to impress me anyway. It never works out. Fortunately, that was not the case here. They had some visiting wine people from Philadelphia and the one assigned to us was both knowledgeable and helpful. We started with a white Friulano and moved on to a red, a Sottimano Barbera D'Alba.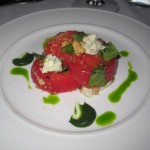 There were, however, far too many wine people, as there was always someone coming and pouring wine at all times. It was clear that this was not being done simply to pour out the bottle and sell us more, but nonetheless it was a little annoying. Especially when one guy tried to pour us some other table's wine. Oops. I guess I should have seen if they ordered something better before deterring him.
The food was spectacular. The menu is a four course tasting menu with several choices for each course. We started with a pre-appetizer of fried pole beans. Naturally, here everything is super fresh. Many of the vegetables come from local farms and are truly spectacular. The proteins in each dish are built around the vegetables as they are the star of the show.
The lamb is served atop eggplant three ways. We were told that the preparation of the eggplant changes with each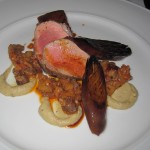 dish that leaves the kitchen. Personally, that seemed like a load of hooey to me, but it was darn good eggplant. The salmon was served with corn that is grown within a mile or two of the restaurant.
All of the food was very good to sublime. FKGuy had the salmon and ate about half of it. When someone came to remove the plate, she asked if he did not like the fish. "No, it was fine," he replied. Then another guy in a suit came over asking why he didn't like the fish. What was wrong with the fish? "Nothing is wrong. It is OK." It was cooked well and the corn was really outstanding. The fish was severely under seasoned. But it was fine. And it was part of a four course meal, so really, we were not starving. Then our waiter appears to let us know that he has removed the salmon from our check. Really? It was fine.
Desserts were an amazing finish to a superb meal. From the individual wrapped chocolates to the cheese plate, they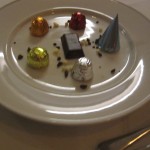 were all great.
It was expensive, for sure, but it was a wonderful and memorable meal (for all the right reasons).