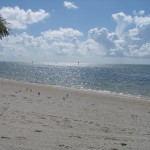 Key West is an outdoorsy kind of place. Between the fishing, outdoor dining, beaches and more, Key West is known for the year round sunshine. So, what do you do if your one week of vacation happens when we are having a great downpour that lasts for five days straight? Fear not, that is a start.
There is plenty to do indoors here. OK, there is some stuff to do indoors. First of all, most restaurants have indoor seating. In some places it is limited, so rainy days are good times to make a reservation. Enjoy a cocktail with your lunch, as it will probably help with your afternoon nap (which is a MUST on rainy days).
Once you are fed and rested, head over to the Tropic Cinema. This is – at least
in my not-so-humble opinion – the best movie theater ever. The small, intimate theaters don't hold hundreds (so, fewer people to be yapping on their cell phones and the potential for a seven foot tall person to sit right in front of me is less, too). Then there is the concession stand. With decent wine and beer options, popcorn with real butter and a topping bar and other delicious choices, it is hard to pass up. Oh, they have good movies, too.
Another good choice for a rainy day is the Eco-Discovery Center. It is free (this makes it a no-brainer…), climate controlled and has interesting exhibits. There is a movie and interactive stuff for the kids. It is a good way to spend some time on a rainy (or really hot) afternoon.
You may want to also explore some local happy hours. There are several good ones, including Kelly's (an easy stop after the Eco-Discovery Center) where $2 beers and $4 chicken wings are on tap. Half Shell Raw Bar also has half price drinks and food specials, as well as indoor seating.
There are museums, the Butterfly Conservatory, numerous art galleries and shops. It is easy to spend an enjoyable rainy day in Key West. Although, I do hope the rain stops soon. Flooded streets and a closed airport are no way to live!