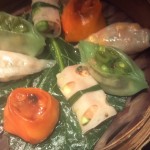 When my father wanted to go to Hakkasan for his birthday, I was surprised. It is in the Fontainbleu hotel on Miami Beach so the place is huge (Hakkasan is about a 10 minute walk from where we valeted the car) and the fact that is undoubtedly crazy-expensive, off we went for what I hoped to be a nice birthday dinner.
We were running a little late for our reservation so we called and let them know that we are late, but would be there. We were told that was not a problem. Then we arrived to a thirty-plus minute wait. (Yes, I understand we were late, but we called and were essentially told that they would hold our table.) They did not hold our table. When I asked the hostess about it, she tried back pedaling and said that they do not hold tables. That would have been helpful information WHEN WE CALLED YOU. Not so helpful when we are sitting at the bar for over half an hour.
We were off to a rockin' start. We finally got a table (after being told that it was someone else's table they were giving us) and were looking forward to the meal. Then our server came over. She asked if we had any allergies and I let her know that we needed items with no shellfish. We ordered, she told us that there were some form of shellfish – dried shrimp, oysters – in just about everything we ordered, except for the mushroom lettuce wraps, which they could not make without the spicy sauce. So far, we have a long wait for the table and a not very accommodating server. It only got worse from there. At least the food (that we finally were able to order) was good.
So  the things that one would imagine someone with a shellfish issue could eat, but at Hakkasan could not (and were told they would not be done any other way,) include:
Grilled Shanghai dumplings, filled with chicken
Sea bass (dried shrimp)
Beef Tenderloin with black pepper
Wok fried rack of lamb with black pepper sauce and Morel mushrooms
Szechuan style chicken
…and one or two of the noodle dishes
When we asked if they could do some of these dishes without the accompanying shrimp or oysters we were told that no, they do not do that. OK. So we ordered a bunch of other things. The whole ordering process took forever and was quite annoying.
When we finally did get food, it was quite good.
So, overall, the pros of Hakkasan:
Nice room
Good food
New stemware for second bottle of wine (but at $30/bottle corkage, it should be that way)
The cons:
Obnoxiously loud, beating music (really, at $100+/person I should be able to have an actual conversation with people at my table)
It is absurdly expensive ($26 for the vegetarian dim sum, for example, or $40 for fish that doesn't even come with rice. that is an extra $6). I wouldn't really be bothered by this if the rest of the meal was good.
Service is not the least bit accommodating,  and they are not particularly nice about it.
They don't hold tables even if you tell them you will be a little late.
The menu is impossible to navigate, as there are no descriptions and each dish seems to have many, many ingredients one would not expect.
The "yellowtail" on the menu was actually red snapper. If you are going to serve it with the skin on, I am going to be able to tell the difference. I'm a native Floridian.
When I told the hostess that it was my father's birthday, so maybe they could do something nice, she shrugged and said that they would write "Happy Birthday Alan" on the plate of whatever dessert he ordered.  That is okay, but a simple "Happy birthday, we a re glad you chose to spend it with us," goes a lot further.
Overall, I am glad the food was good. Would I go back? No.