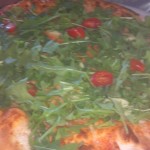 Just when you think you cannot possibly eat another slice of pizza, it happens. You end up hungry, on Thanksgiving day, when not a lot is open. We found ourselves at Piola in Hallandale. The Italian restaurant chain occupies an unassuming space in the Diplomat Mall.
The artwork on the walls (all for sale), as well as the graffiti style painting, and shipping container bar all create a cool, easygoing atmosphere. But the star of the show is, of course, the pizza. There are seemingly endless choices of toppings from classic tomato sauce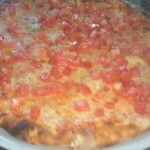 with arugula and cherry tomatoes to white pizzas and every imaginable combination in between.
We had a small house salad which, despite the sad, barely pink tomatoes, was quite good. As we had packed and moved quite a few boxes earlier in the day, FKGuy and I were both ravenous. He ordered the Moderna, topped with fresh arugula, tomatoes and shaved Grana Padano cheese. I had the Milano, with gorgonzola cheese and fresh tomatoes. Both pies were absolutely delicious. They had a bit more oil than the bone-dry style of Onlywood, but were nonetheless really satisfying. (And not just because we were starving and nothing else was open, either!)
Would I go back? Yep. Sure would. In fact, I am trying to work in a trip there this weekend. It shouldn't be too hard to accomplish.
Piola is located at 1703 East Hallandale Beach Boulevard, Hallandale, FL, and is open every day for lunch and dinner.