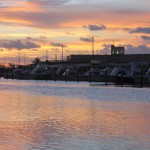 Watching the sunset from a dock is always a good thing. Watching the sunset while indulging in fabulous food is even better. This is precisely how I spent my evening at Thai Life.
I have been to this restaurant a few times, both to dine in and take out. The service is good and very friendly. They work really hard to accommodate any wish or menu change you might have.
The food, however, is the real star of the show. We had a really cold winter in Key West (57 indoors with no heat –  I am not a wimp, it was really cold), which gave me plenty of opportunity to try the vegetable soup with noodles. More recently I have expanded my repertoire to include things like Thai noodles with vegetables in a sweet soy sauce, Pad Thai (one of the best versions I have had to date) and grouper fried and topped with a sweet chili sauce. Wow.
You can order your food any spice level you like. I always order my food "hot" – American Hot, not Thai Hot, mostly because, although not a wimp, I am not a glutton for punishment either. The soup generally comes with loads of chili flakes, and thus definitely spicy. The other dishes tend to be a bit milder, which I assume is because there is not a pile of chilies waiting for me at the bottom of the bowl.
They have all of the regular things you would associate with a Thai restaurant, like sweet and sour whatever, but also a lot of unusual dishes. Fried garlic and black pepper sauce, for example, with any protein you like. I like it with the fish. Yum.
I could not think of one negative about this restaurant: It is away from Duval Street, so if you are visiting you most likely need to take a taxi. They are open until 11PM, which comes in handy if you are stuck on a bridge.  They allow corkage for a reasonable $5. Most importantly, the food and service are both great, which keeps me coming back over and over again.