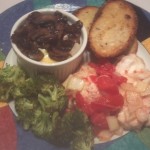 After our superb dinner at Osteria Morini in New York, I left knowing I needed to figure out how to make that sformato. It was a ramekin full of creamy goodness, all topped with mushrooms. Although I didn't actually lick the bowl, I did tear off little pieces of bread, which I used to wipe the bowl clean. It was that good. 
I scoured the internet and found a good base recipe by Anne Burrell, but the thing that made the Morini version so great was that it just oozed cheesy, Parmesan goodness. This recipe did not seem to call for enough cheese. I made the custards, but added twice as much cheese as the original recipe directed. You can never have too much cheese, right?
While the original recipe is served with piquillo peppers and almonds, I was married to the mushroom idea. I sauteed some Baby Bella mushrooms (two packages, to allow for the inevitable munching on them as I go) in a little olive oil with salt and pepper. I added a splash of golden sherry and some dried porcini powder and let those all come together in the pan. I checked their doneness frequently,  mostly because they tasted to so good.
I served the sformato with toasted, buttery bread, alongside roasted grouper with tomatoes and onions, and as a nod to something healthy, roasted broccoli. The meal turned out great, and I am already looking forward to making this part of the permanent rotation. I'm pretty sure my dinner guests are, too.