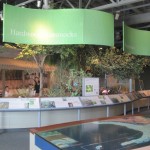 Key West has a lot to offer. But sometimes, especially in the summer, you just want to be in air conditioning. The Eco-Discovery Center, located through the Truman Annex gate on the way to Fort Zachary Taylor beach, is the perfect way to spend some time on a hot afternoon, before or after the beach. It is free, air conditioned and has parking, which are all things that are sometimes hard to come by in Key West. Not only that, but the bathrooms are clean, too.
The Eco-Discovery Center is operated by NOAA, the National Oceanic and Atmospheric Administration. Inside, kids and adults alike enjoy the interactive displays on fish, plants and wildlife of the Florida Keys. Guests learn all about the fragile eco-system as well as the challenges facing the Keys.  Learn about pine trees, mangroves, hardwood hammocks and more.
You can even walk through a simulation of Aquarius, and see how scientists live below the sea while researching. Nine hours of scuba diving per day? Living in a relatively tiny capsule with other scientists? I'll stick to my life on land, thank you.
The center also shows a film every half hour, dedicated to marine life. Learn through the eyes of someone who grew up in the Keys about the reef and life underwater. The film is really beautiful. Although I do wonder how the woman in the film seemed to hold her breath forever.
If you go, the center is open Tuesday through Saturday from 9:00 AM – 4:00PM. They also have a gift shop with unique gifts and souvenirs.