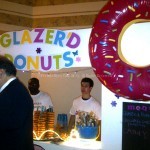 This past weekend we traveled to suburban Washington, DC to spend the weekend celebrating my father-in-law's retirement festivities. The weekend was jam-packed, leaving me badly in need of a nap, or three. After eighteen years as a rabbi at the same congregation, to say they were sad to see him leave is a gross understatement.
The weekend kicked off with a dinner Friday night, followed by services. Saturday morning, we picked up with more services, and a lunch. (You know, nothing says retirement like deli meat and smoked fish. The lunch was deli, but we had plenty of Zabar's smoked fish later in the day.) Saturday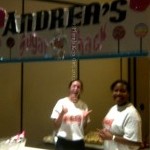 evening brought a party that was so outstanding, clearly it was  a labor of love. Volunteers designed mock food trucks – each one with a unique menu, focusing on my in-laws. Food trucks ranged from the "Garden of Steven", complete with snake and instructions not to eat the apple, to "Andrea's Sugar Shack", along "Cheesecake Ave" reminiscent of the dessert my mother-in-law has (made hundreds of, and) often auctioned off at fundraising events. Not to mention "Glazer'd Donuts", which although I didn't manage to eat any, looked quite tasty. Decorations relived their years both in Northern Virginia and before. My favorite drink of the evening was the "Retire Mint Julep," because in addition to my fondness for bourbon, I love a good pun.
I was told there would be a "skit" and "video" on Sunday. What actually happened was a full-on hour and a half performance that required weeks – if not months – of preparation and rehearsing. It was outstanding.
For a group of people to put so much effort and love into a farewell send off was truly incredible. It is a testament to the impact my father-in-law had on the members of his synagogue over the last eighteen years.