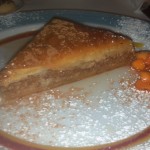 I tend to like small, owner-operated restaurants. I am not typically a fan of chains (except maybe Chipotle for a quick lunch in a pinch). So, when my parents made a reservation at Sea Grill for their anniversary, I was expecting a small, intimate restaurant. I was wrong.
It is a typical Miami "scene" type of place. The lobby is beautiful, with metallic tiles on the wall, and a sleek bar. But the good looks are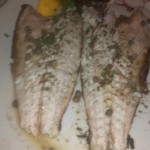 overpowered by the too-loud music throughout. When we arrived and were told we would be seated at a "large, round table" I was skeptical about the whole evening. We had requested a booth, of which there are many, yet were seated at a table for eight (we were a party of four) in the middle of the restaurant. This would not do. I had to shout to tell the hostess that it was too loud. She didn't hear me, and the irony of the whole thing was completely lost on her.
No problem, we were told, and we would be seated shortly somewhere where we might be able to talk to the people at our own table. Forty five minutes and a massive lack-of-food-and-throbbing-music headache later, we were seated. At a table with no place settings. It was 9:30 at night and proving to be completely annoying. I could only hope that the food was decent at this point.
Our server came over and I explained to her the situation (we were hungry and highly annoyed), yet she was not bothered and did everything she could to redeem the meal. She was wonderful. From that point on, the meal was fine. The food was good, the service was good, but of course, I was sitting under the leaking air conditioner.
We ordered a bunch of appetizers. The Greek salad was fresh and had lots of feta cheese. The Saganaki, usually one of my favorite dishes of flaming Haloumi cheese in brandy was a bit lacking, as it tasted more like fried mozzarella that was not quite fried enough. It still tasted fine, but it was certainly not the best, and I would not get it again. The Keftedes, lamb and meat patties were a bit greasy, but flavorful. The fried eggplant and zucchini with tzatziki was outstanding, as was the assortment of dips. The entrees were a whole branzino and a grouper ladoregano, both of which were very, very good.
For dessert we shared the ekmek, a phyllo pastry filled with a pistachio concoction that can only be described as something I must have more of in my life. It was delicious.
So, the question is always: would I go back? Well, they did redeem themselves once we finally got seated and the meal was mostly good, but I am not sure it warrants another trip. Between the parking being a complete nightmare and the loud music and long wait with a reservation, well, I have some reservation of my own about returning.