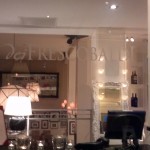 When I received the invitation for the VinItaly tasting on Miami Beach, I was bummed that work was getting in the way of wine drinking. Later that week, I saw the invitation to the Frescobaldi "Aperitivo" tasting, which started at 6:30 in the evening, it was hard to pass up. So I didn't.
FKGuy was still working, but I schlepped along FKMom and FKDad with no promises that it would be a great event. We arrived to the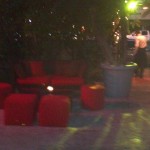 Hotel Astor and meandered our way to the outside patio. The weather was perfect for an outdoor food and wine tasting. (There has been a lot of that this month). We were greeted, made our way outside to the wine table.
They were pouring four different wines at the event, starting with the Pomino Bianco, a crisp chardonnay, and followed by the Tenuta di Castiglioni blend, Marmoreto blend and the Nipozzano Chianti. Along with the wines were plenty of passed hors d'oerves, including arancini (rice balls), polenta with porcini mushrooms, polenta with parmaggiano cheese, little puff pastry pizzas, and tiny sandwiches.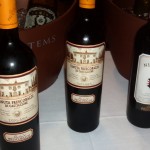 Not only were the guests at the event largely friendly (surprising, for a South Beach event), the winery representatives, restaurant people and staff at the event went above and beyond to ensure a good time. For example, they were using really nice wine glasses. After my glass of white, the gentleman pouring insisted that we have new glasses for the red. Hardly common practice at this type of function. Despite telling my parents that it may not be such a great event, I am happy to say I was wrong. Not only was it fun, it was a well put-together function.
The restaurant, dei Fescobaldi (translated, means "of Frescobaldi") is a newcomer to the South Beach dining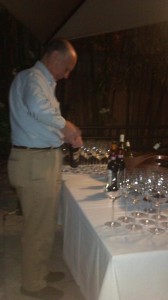 scene and I am looking forward to trying the restaurant. More on that another time.