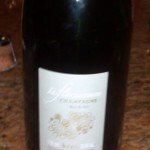 The easiest way to notice that things have started to return to some level of normal is by the food. When we start having people over for dinner again, all is (almost) right in our world. The other night, our friends came over for a low-key dinner.
We started with champagne (of course), in celebration of the new house, along with mushrooms stuffed with mushrooms, garlic and a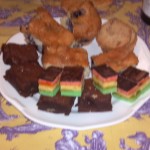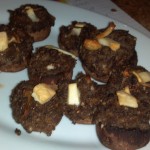 little Parmegianno Reggiano cheese. We moved on to the dining room with a white burgundy (2008 Auxey-Duresses Clos du Moiln Aux Moines) and a Cesar salad. The main course was a roasted grouper with capers, lemon and garlic and served alongside were Israeli couscous with caramelized onions and roasted eggplant stuffed with eggplant puree, feta cheese and red pepper. Of course, because every Tuesday night meal needs a totally over-the-top wine, our friends brought a 2002 Chateau Haut-Brion.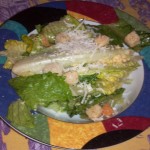 I did mention that this was a random Tuesday night, right? As such, there was no time to be fussing with dessert. Instead, the day before I had managed to leave my parents' house with a plate full of homemade goodies – brownies, tri-color cookies, bourbon pecan cookies, coconut cookies and a blueberry cake. So, the dessert was delicious, and there was a lot of it, yet I managed to exert no effort in the process. Win-win. (By the way, it is also a win for my mother, as she tried to clean out her refrigerator before Passover.) Win-win-win.
This dinner was a great way to get back to a normal life, but I also learned some great things about our new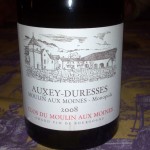 house. The breakfast bar/counter peninsula/huge hunk of granite in the middle of the room is a great spot for hors d'oerves. The dining room can accommodate the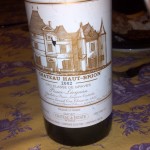 table fully extended with two leaves at all times (allowing me to be lazy and never take them out, but realizing I am going to need some larger tablecloths). Most importantly, this is going to be a good gathering spot for friends and family.