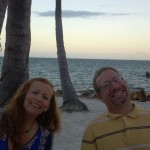 When I saw that I would be dining at Sun-Sun for their Toes in the Sand dinner, I could not help but start singing that Zac Brown song, Toes in the Water.  (To myself, of course, as I know that nobody wants to hear me sing.)  This led me to referring to the restaurant and menu by the wrong name for a week. Oops.

It was shocking to me that I have been eating at new restaurants in Key West as they pop up, or as soon as I can get to them, and yet, I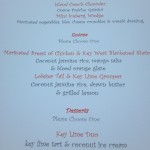 had no idea this place existed. But, as you are reading this (and you know I can't keep a secret), the word is out.
As the name implies, you should kick off your shoes and relax for this beachside dining experience. The live music is wonderful, and there is really not too much better than enjoying a glass of prosecco while the sun sets. The night we were there, as guests of the Casa Marina, it was pretty windy. Much like our dinner at the Strip House, there were several other bloggers in attendance, as well as a few people from the Casa Marina hotel. I was definitely looking forward to a good meal and I was not disappointed.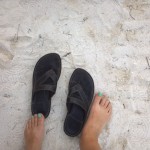 The set menu is four courses, with a choice for each one, except the amuse (a diver scallop and stone crab dish, surprisingly large for an amuse.) The iceberg wedge had an outstanding wasabi dressing. I know, it sounds weird, but it really works. Dinner was a choice of chicken breast and blackened shrimp or lobster tail and key lime grouper. Not surprisingly, there were not too many takers for the chicken at the table. Dessert was a choice of key lime tart and coconut ice cream or pineapple upside down cake with caramel sauce.
The food was overall, very good, and it was difficult to find a consensus as to what was the best part. Not
surprisingly, my dessert choice was the one with the ice cream (which I could not stop eating).  Although the whipped cream was disappointingly not real cream , the food overall was quite good.
The food is very good, and the ambiance can't be beat. Sun-Sun and the Toes in the Sand dinner is a great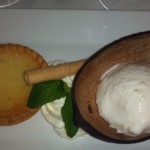 way to celebrate a special occasion. Or celebrate a random Tuesday. Either way, it will be most enjoyable. The set menu is available at $72/person, and while they have a wine list and full bar, they also allow corkage at $25/bottle.