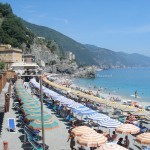 I find it therapeutic to immediately begin planning my next vacation as soon as I get back. So I've been looking at cruise itineraries for next year. I have also been going back through some photo albums of vacations past. One that I particularly enjoyed reliving was a trip to Florence, Bologna, Milan and the Cinque Terre. 
It is no secret that I absolutely love Italy, and it doesn't hurt that we have good friends in Florence, making it a must-stop on any Italian itinerary. But I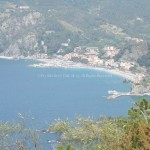 want to share a bit about the Cinque Terre. Five towns nestled into cliffs on the Ligurian Sea are part of a UNESCO World Heritage Site. And for good reason. Each town is more charming than the next.
We stayed in Monterosso al Mare, the largest of the five towns. I had found a charming sounding inn, 1/4 mile up a hiking trail. It sounded terrific – lemon trees, sweeping vistas… until you realize that you need to schlep your luggage uphill the whole way. Fortunately, I had FKGuy, or as I sometimes like to refer to him, the Pack Mule, to make dragging our bags uphill look easy.
The towns are very touristy, which is to be expected, and are connected by a hiking path. Now, you may be picturing things like hiking boots and trail mix, but you would be wrong. Think sandals and wine drinking, and you would be a lot closer. These are, for the most part, really easy trails to navigate while wearing inappropriate footwear, and they take very little time. We spent a few days, so it was easy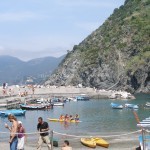 to take our time exploring the villages (and tasting gelato in every one).
A few key things to note about the Cinque Terre:
They are in Liguria, which is famous for my favorite Italian sauce/condiment, pesto. Make sure you eat a lot of it if you go.
You can get to each town by train if you don't want to hike, but you will be missing out.
Yes, this can all be done in a day from a cruise ship, but again, you are missing out on the nuances of each town (and the ability to eat in all of them…)
If you start the hike in Monterosso, you will have done the hardest part first (and can reward yourself accordingly. See the first point about pesto…) After that, it is all very easy.
There is also boat service, so you don't have to do the hike twice. See the villages from the sea on your return trip.
The Ligurian Sea is very cold, even in June. If you are Canadian, you may disagree, but if you are a weak Floridian, like me, you probably shouldn't plan on spending too much time in the water. Instead, spend your time looking at the water, with a glass of wine in hand.
Have you been to the Cinque Terre? I'd love to hear about your experience.