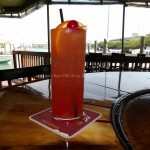 Smuggler's Cove Resort, located at mile marker 85, Bayside, in Islamorada has recently undergone a major renovation to both the hotel as well as the restaurant. We were invited to check out the new menu choices, and I am glad we did, as it is my new favorite stopping point on the Mainland to Key West drive. 
FKguy and I arrived on Friday afternoon, with two dogs and a healthy appetite. I figured we were going to another
run of the mill fish-sandwich-and-fruity-beverage kind of place. Well, they do have both of those things, but it is not run of the mill. It is charming, quirky, Keys-y and most importantly, has great food.
There are tables in the sun as well as the shade, and they all overlook the marina. After we ordered, we were chatting with one of the owners, who is from Fort Lauderdale and owned a Lime franchise. It suddenly all made sense: the professionalism, great attitude and fish tacos.
I started with the perfect way to feel like you are on vacation: a fruity cocktail. The Goombay smash was delish. We ordered the tuna tartare, and were delighted by the freshness, as well as the tasty sauce and accompaniments. Not only was it good, but it was beautiful. The beauty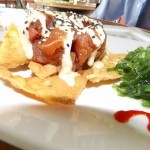 did not last long, though,  as we dove right in and demolished it within moments. We also tried the lobster bites, which have got to be good. What is better than fresh lobster deep fried and served with two sauces? Nothing.
Next up was a Cesar salad of sorts, topped with tortilla strips and a chili dressing. It was very good, and also comes with your choice of fish or chicken topping. As we were also getting the fish tacos, we opted for the plain salad. I have had fish tacos at every possible moment, and it is without hesitation that I tell you that these are among the best. I am not sure I could award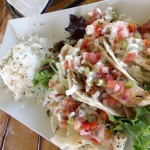 one taco The Very Best, but these are darn good. Three soft tortillas stuffed with grilled mahi mahi, pico de gallo, cabbage and a tangy sauce, all served alongside coconut rice. If you didn't feel like you were on vacation before the rice, it seals the deal. It is a big portion of fresh, tasty goodness. Best served with a margarita. (Yes, I tried the pairing and it worked marvelously.)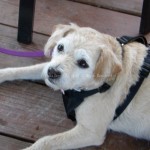 Beautiful water views, great food and service make this a perfect spot for a bite. Being dog friendly is a big bonus. Smuggler's Cove is located at 85500 Overseas Highway in Islamorada, and the restaurant is open daily at 11 AM. Check them out, you won't be disappointed.