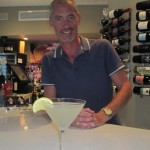 I have a big mouth. I know this. I often say something, and then think nothing more of it until I am reminded of it sometime later on. Usually, it is not a good thing. However, this past weekend something funny happened at the Orchid Bar at the Orchid Key Hotel. With one exception, I hadn't been there in a long time.
This past weekend, we were celebrating a friend's birthday, and started with drinks at the Orchid Bar. It is a tiny place with only 6 stools, and I once again noticed the amazingly beautiful counter. I realized that the first time we were there, about four years ago, I went absolutely gaga over those counters and pronounced that I must have them in my house at some point.
Years go by, and I have completely forgotten this obsession. At the time, we were in a condo and were not planning on renovating. Shortly thereafter we moved into a townhouse, which we did renovate, but with glossy white IKEA cabinets. I was not going to put a white counter on those. I promptly forgot my countertop obsession.
Fast forward three plus years, and we start building our house. I can tell you, without a doubt, the area that I obsessed over the most was the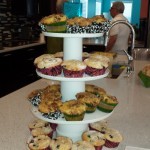 kitchen. I wanted every choice to be perfect. I started with the cabinet wood (cherry) and stain (as dark brown as possible), and then selected the style (Shaker). It was months before I was satisfied with the layout. But it all came together nicely.
As we were nearing the end of the project, I let the builder know which quartz colors I had selected. White with a sparkle, for the main countertops and a silver with a sparkle for the island. Well, as we were ordering these, I was told that I could not have the silver island.
Me: But you said I could have anything I want, remember?
Him: Yeah, you can, but you will have a big seam in the middle and it will look terrible. The slab is not big enough. Can we just go with the white for the whole kitchen?
Me: Fine. Whatever. I can't possibly make any more decisions. Make it work. 
It came out beautiful. I don't regret the one color counter, and I am thrilled with the kitchen overall. So, last weekend, while we were at the Orchid Bar, I once again noticed how beautiful the countertop is, I realized that it is, in fact, the same as the one in my kitchen. And I love it in both applications.