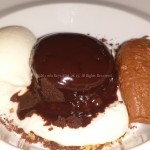 Once I had secured the reservation at Le Bernardin, I went to work to insure that we would eat well for the rest of the week, too. One of my most anticipated meals was the $55, five course lunch at Bouley. The short version is this: food generally awesome, service generally lacking. Read on for the gory details. 
We arrived on a glorious, 65 degree day, and checked my coat (that I was not actually wearing since it was 65 degrees and sunny. Even I am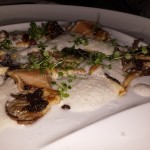 not that much of a wimp when I am also wearing a sweater.) The restaurant is gorgeous, and reminiscent of a French country house (well, a French country house owned by a bazillionaire with really flowery taste in curtains.) The atmosphere is relaxing, as we were greeted in hushed tones by both the coat check person and host. (I knew we were in trouble. I am terrible at being quiet.) We were seated near the back of the main room, and were very comfortable, but as this was a five course meal, I was eager to get started on the food.
We enjoyed a white and a red Burgundy, which were both surprisingly affordable. As for the menu, we were brought out an amuse of tomato water, tomato ice and soy ice cream. While the ice cream was oddly chalky, the rest was delightful. Who knew that tomato ice was possible and that it would taste good? Not me.
My first course was the blini with smoked salmon, salmon roe and truffled honey. While more a meringue than a blini, this was one of the best bites of food I had all week, and that is saying a lot. The (non) blini were light and melt-in-your-mouth, the salmon roe popped perfectly and the truffled honey was a nice surprise (I would not have been as surprised had I actually read the menu. Nonetheless…)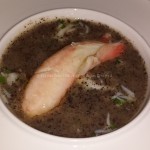 The porcini flan (as I am a sucker for anything with "porcini" in it and have been known to plan trips to Italy around porcini season) had golden crab and black truffle dashi. Delicious. Also delicious were the foraged mushrooms with garlic and grilled toro.
The main course, slow braised beef cheeks with tiny gnocchi, was outstanding. Rich, flavorful and perfect for winter. Or winter-masquerading-as-summer. Either way I would happily eat it again. The wild salmon with hearts of palm was also wonderful, despite my dislike for tarragon. But one of the things I liked most about this tasting menu is that there were 2 dessert courses. Two out of five. That is a good percentage of sweet.
The first of the dessert courses was strawberries with almond ice cream. I love homemade ice cream. Really, I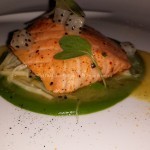 love any ice cream, as long as it tastes good (and how hard is that? It is cream, eggs and sugar, and sometimes a fruit or nut, and it is my weakness.)  But the thing I was most looking forward to was the Hot Valhrona Chocolate Souffle with coffee cloud, coffee ice cream (hello, weakness) and chocolate mousse. A good chocolate souffle is light, airy, and full of subtle flavor. It is also made with egg whites. Unfortunately, this was none of those things. It wasn't even a souffle. It was more of a lava cake minus the lava. Overall, it was a huge disappointment. I am perfectly happy to have a blini/meringue, but if you promise me a souffle, then dammit, I want some egg whites whipped to peaks, folded into a batter and baked to rising perfection, served with a nice sauce. Especially at the second best restaurant in New York. Or, forget the sauce. If the souffle is really good, you don't actually need it. It was a disappointing way to end an otherwise good meal.
A note about the service: There seemed to be many people milling about in suits and whatnot, but when we needed something it was hard to get someone's attention. Also, as dishes were brought to the table, they were served by reaching across us, rather than walking around and serving properly. This is something that can usually be forgiven, but frankly, at this type of place I expect better. They weren't particularly friendly either. Given that we were here two days after Le Bernardin, I was comparing, and the folks at Le Bernardin are totally on their game.
So, the big question… would I go back? Probably not. The food was, overall, amazing, but the service lacked and there are just too many other great places in New York to try in my limited time there.
Have you been to Bouley? What did you think?