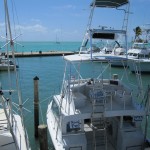 Wahoo's at the Whale Harbor in Islamorada was the lunch spot yesterday. After picking friends up at the Fort Lauderdale airport, we headed south for the beautiful drive to Key West. Mrs Mac's was a little early in the drive and Keys Fisheries a little too late, as we were hungry, so we went to the Whale Harbor Marina at Mile MArker 83.5. 
It is a beautiful setting, overlooking blue water and boats in from morning fishing trips. They have a pretty basic menu – fish sandwiches, burgers and some salads. I ordered a grouper sandwich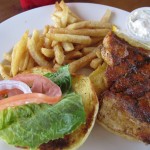 , which was good. The piece of fish was large and fresh. I ordered it blackened, but needed to add Tabasco as there was not too much flavor to the blackening seasoning. It was served with a piece of lettuce and a sad, unripe, barely pink tomato slice. Really, people, just leave off the tomato if it is not ripe. The sandwich came with fries, which were also good, but not great.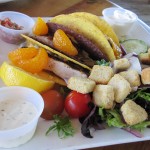 One of my friends ordered the blue corn fish tacos. Interestingly enough, only one of the three tacos was actually blue. She did say the fish was good, and the citrus topping interesting.
Overall, an enjoyable, if not memorable lunch. I need to plan better to hit Mrs. Mac's at the right time.