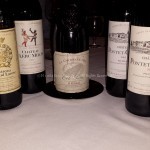 While most dinners for us tend to include wine, they can't all be called "wine dinners". Of course, once we planned this New York trip, we started contacting the winos – er, wine lovers – that we know there to connect for dinner. Monday night brought us to Tribeca Grill with some friends that live on Long Island and drove in to meet us, as well as some folks we met only a couple times before. Tuesday night was the "wine-has-antioxidants-so-shut-up-$79-unlimited-wine-dinner" at Maloney and Porcelli.
I thought I would make up for all of the eating by walking 10 miles every day in New York. Sadly, I walked the 10 miles, and still managed to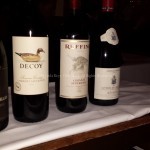 gain a few pounds. Really, it is no wonder. Monday night we met our Serious Wine Geek Friends for dinner. While they do have an amazing wine list (one of our friends got a bottle of 2001 Delas La Landonne Cote Rotie, which was my wine of the night), we brought several other bottles, including: 1990 Haut Brion, 1990 Gruaud Larose, 2003 and 2004 Pontet Canet, 2005 Clerc Milon and 2005 Clos Pepe Pinot Noir, Vigneron Select. Good stuff. I love having friends that show up with first (or second, or fifth) growth Bordeaux for a Monday night dinner.
Overall the food was good, with the exception of one overcooked steak. The menu is small, but there are a number of good choices. I had salmon tartare as the appetizer, which was outstanding, and pasta Bolognese, which was good but not great.  Most others had the short rib perogi (delish) and steak of some sort. Service was outstanding, and the company was, as usual, terrific. Plus, it was a good warm up for the next day.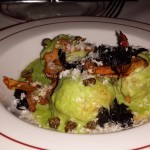 Tuesday brought beautiful weather, lunch at Bouley (more on that later in the week) and dinner with our friends that have a place in Key West, but live full time in New York. She wisely suggested the Maloney and Porcelli wine dinner, as when the four of us get together, we tend to drink a lot, and eat a lot, and this way we were not overspending. For $79 you get your choice of any appetizer, any entree and a dessert along with a choice of five wines.
Service started off a little rocky, but turned out okay (and by "okay" I mean "we were all hung over the next day, so he couldn't have been too bad.") We started with some truly nasty, slightly warm prosecco, and quickly all ditched it in favor of the 2013 Stags Leap Hands of Time Chardonnay. Other wine choices for the evening were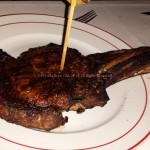 the 2012 Decoy Cabernet Sauvignon (we did a good job on that one, too), 2012 Ruffino Chianti and a 2011 Perrin Cotes du Rhone Reserve. While none are a 1990 Haut Brion, I think they are all perfectly acceptable choices for an all-inclusive wine dinner. After all, this is a place where the steaks alone are $50+, so adding an appetizer, dessert and unlimited wine makes this meal a bargain.
The menu is huge. I was overwhelmed by the choices (and still a little full from the five course lunch at Bouley), so I opted for a Cesar salad, Roquefort-crusted filet and sorbet for dessert. I did a pretty good job on the steak, so I obviously wasn't that stuffed from lunch. Other appetizers at the table included veal meatballs (good), tomato and onion salad with a yummy ranch dressing, and something else that escapes my mind right now (probably because A. I wasn't eating it, and B. Did I mention the unlimited wine? It started early in the meal.) All were good, and glasses were being refilled hastily.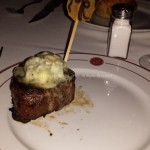 By the time the entrees came along, we had all moved on to red wine (Decoy Cab) and were having a rather animated conversation. I love that I have friends that I can eat with and the conversation makes its way to what we will be eating in Key West six weeks from now. Steak today, Saganaki next time. It is important to plan ahead. The filet was delicious, FKGuy enjoyed a ginormous rib steak that was perfectly cooked, our friends had the Wellington (so fabulously 1982, and yet, so delicious. There is a reason this dish endures the test of time.) and the "Bronson Pichot" which is some sort of filet, finished tableside with shallots and wine sauce. They were going on and on about how good this sauce was, and frankly, I am a sucker for the (also very 1982) tableside presentation, so I had to stick my uninvited fork right in it. It was delicious.
All of the food we had was very good, and I would not hesitate to go back to Tribeca Grill (although more for the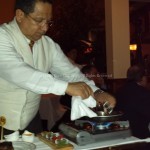 awesome wine list than anything else), or Maloney and Porcelli (but likely for the $79 dinner, as it really is too good to pass up.) Have you been to either of these restaurants? What'd you think?