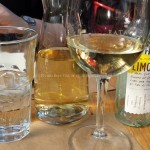 Gelato, pastries, a full grocery store with fresh fish and meats, as well as cheeses, and several different restaurants make up Eataly, where I swore I died and went to food heaven. Seriously, I could have wondered the crowded areas of Eataly for hours on end. But that was not nearly enough Italian for us. We followed that a couple days later with lunch at Osteria Mornini and gelato at Grom. No, we were not still hungry, but that is not the point. 
Insude Eataly there are a number of sit down restaurants. We were four adults and a tiny baby, so we needed someplace not terribly crowded.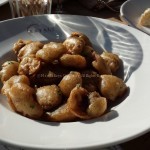 It was sunny and 65 degrees out, and the Birreria on the roof fit the bill nicely. We started with the cheese plate (and a choice of 3, 5 or 7 cheeses. Yes, we did get all of them) and a plate of Sopressata. I'll say this: I generally like honey with cheese, but here they served a hazelnut honey that was the best honey I have ever tasted. We ended up riding the elevator down with one of the chefs and he shared the secret to the honey. Frangelico. It was ridiculous. I nearly stabbed my friend with a fork to get at the last bite. Hey, you would have too, if you tasted how good this was!
We also enjoyed roasted mushrooms and stupidly good fried shitake mushrooms. They were amazing. I would go back just for the fried mushrooms and hazelnut honey, but the Friulano white wine on tap did not hurt, either.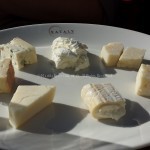 And if the weather sucks, they do have a retractable roof, so you do not need to reserve this for glorious, spring-like days in November.
After all that food and wine, of course we needed to head downstairs and try the gelato. It met my already high expectations, and I enjoyed every bit of my espresso gelato. But, it was not to be my only gelato of the trip.
A couple of days later, I had noted to FKGuy that although we had been eating really well, and clearly we were not starving, I had yet to have any really outstanding pasta. I felt that was a situation that needed to be rectified before leaving the city. A couple of days later we headed out on a walk from the Upper West Side, made it to about 34/Lexington and decided we needed to hop on a train in order to have lunch at a reasonable hour. Destination: Osteria Morini.
But first we made a pit stop at the Lafayette 148 sample sale, and FKGuy was reminded why he hates shopping sometimes. Waiting in line for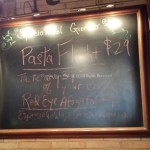 the privilege of shopping is not something either of us are thrilled about, but at least I left there with a couple of new dresses. The light at the end of the madness was a liter of wine and loads of pasta. More wine on tap (and by the liter!) at Morini and within moments we were both happy campers. We started with bacalao (salt cod fritters) which were quite good, and then each had the flight of pasta. I am going to seize the moment when I am offered my choice of three delicious pastas all served on one plate. We were in heaven, and a bit of a food coma when we were finished with our meal.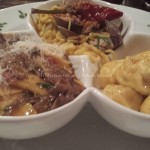 We decided to walk a bit – you know, since we just ate more carbs in one sitting than either of us has had in a year – and headed west to the village, past our first apartment, and across Sixth Avenue, when we stumbled upon Grom. On one visit to Florence, our friend took us to Grom as it was her favorite gelato shop. While I didn't think it was the best gelato I had in Florence, it certainly was tasty, and always worth a stop. So yes, I followed up some power shopping with a lunch made up of pasta, bread and wine, and then went out for gelato. Sounds like a perfect afternoon, no?
My need to always have good Italian food paid off nicely on this trip. Have you been to any of these places? What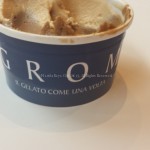 did you think?