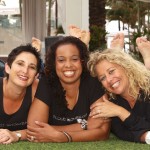 It is Event Week here at Chez Florida Keys Girl. This week I am talking about three upcoming, mainland Florida events. Each one should prove to be fantastic. Up first, this Friday, October 12 from 9AM – 12PM is Loud Business, Loud Life, a Lifestyle Event at IKEA Sunrise.
Join 3 Loud Women and Constant Contact for  an energetic and engaging morning about marketing, business and life. We will start the day with light treats, and hear from Constant Contact about great ideas in email marketing. Then, 3 Loud Women will take the stage for a panel discussion about all things business and life, moderated by Tera Faso of Biz 4 Moms.
Each of the 3 Loud Women, Allyson Tomchin, Teana McDonald and me, the Florida Keys Girl, has a unique approach to share with the audience. As we all run our own businesses, as well as 3 Loud Women, we will be sharing tips and tricks on how to manage it all, cost cutting strategies and more.
Sound like fun? (Of course it will be!) Sign up for free at 3 Loud Women.