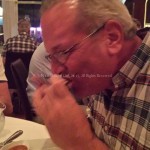 We have been to Cafe Marquesa many times over the past fifteen years. The food is always stellar, and the service is usually professional, if not at all friendly. The thing is, when we are trying to decide where to go for dinner, on any given night, I always forget about Cafe Marquesa. So when friends wanted to go this past weekend, I gladly made a reservation (which is much easier now that they are on Open Table.) 
We arrived to a short wait, but alas the benches have been removed from the front of the restaurant leaving us either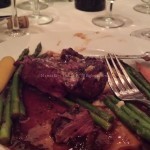 standing, or heading next door to the hotel's lobby. We opted for the latter. The restaurant atmosphere is lively, and a bit loud. The huge windows looking out onto the street are inviting, and the bar, though small, is lovely.
When we were seated, one of our friends ordered a martini, which took about twenty minutes (and several inquiries)  to arrive. Meanwhile, seconds later, our waiter came over and asked if we were ready to order. When I explained that we would need a few minutes, he left, but was back again all too quickly. Being rushed is not a good start to the evening, especially when we have a late reservation and they are clearly not turning the table over again.
After the third or fourth time of him coming by, we ordered. Keep in mind that we were not being particularly indecisive, but rather wanted a few moments to talk with friends and enjoy a glass of wine. I didn't think that was too much to ask, but apparently I was wrong.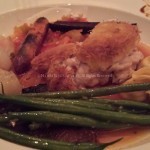 The good news is, the food, as always, is fantastic. The Ceasar-like salad is fantastic, duck slider is delicious and the lamb meatballs were outstanding. No, I did not order an appetizer. Yes, I tried everyone else's. I did, however miss the seafood potstickers, which are among the best restaurant dishes. Oh well. We somehow managed to survive without them.
Our entrees came (while some of us still had appetizer plates), and were all terrific. The phyllo crusted snapper was very good, as was the blue cheese crusted filet. I summoned every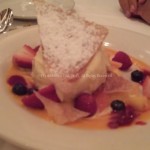 ounce of willpower in my body to say "could I please have extra vegetables instead of the boursin mashed potatoes?" I know. Crazy. But it was the right move, and was delicious despite the lack of potatoes. Others enjoyed duck, as well as venison. One thing that Cafe Marquesa does well is having menu items, like venison, that you don't find everywhere else (at least not in Key West).
I was stuffed when it came time for dessert, but my friend ordered a few "for the table" so I had to try them. The key lime napoleon was the best, with a rich, flavorful cream. The molten chocolate cake was not molten, and barely warm, although the ice cream alongside was delicious. As for the raspberry sorbet, I wished someone had tasted it before serving, as it tasted like cardboard with red food coloring. Not good.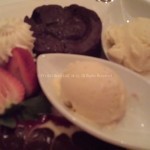 Overall, our meal was less impressive than the last several times we have been there. The service was abysmal, and the food was generally excellent, until dessert. Would I go back? Maybe, but I will certainly wait until the summer when they bring back the 2-course $22 dinner menu.
Cafe Marquesa is in the Marquesa Hotel, located at the corner of Fleming and Simonton Streets, in Key West, and is open for dinner nightly.