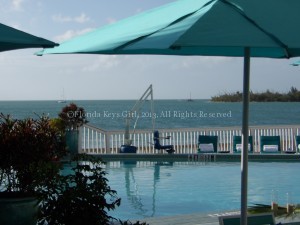 There are a bazillion bars in Key West already, so what is so special about a new one? Well, LIQUID, the pool bar at the Ocean Key Resort has just been relaunched, and it is very, very cool. The catch? you have to be staying at the resort to enjoy the bar (and the pool).  That's okay. I'm a travel agent. I can help you with that. 
FKGuy and I went to a media launch party there last week, followed by an awesome dinner at Hot Tin Roof. I arrived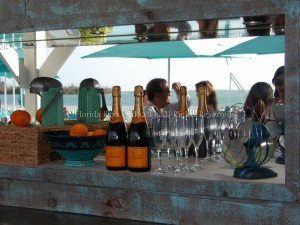 and did not know what I wanted to drink, so the bartender, April, said that she had some Veuve Clicquot open, if I'd like some. Um, yes, I sure would. As we were watching the sun go down, and were being plied with food (chicken quesadillas, crab cakes, ceviche, lobster…) April kept circling, getting drinks for everyone and pouring more Champagne.
Here is the thing: When someone offers me more Champagne, chances are I am not going to say no.
The Ocean Key pool and pool bar is the perfect place to watch the sunset. we enjoyed the sunset, along with cocktails and conversation. LIQUID also offers a full lunch and snack menu, bar, and giant coolers of infused water that you can get yourself. The day we were there, they had cucumber water and strawberry water. Delicious, and refreshing. Then there are the amazing, muddled-to-order mojitos made with 10 Cane Rum. Oh, the choices.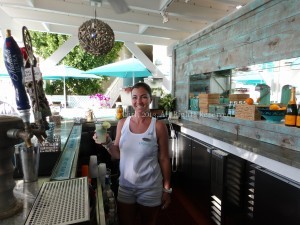 Imagine yourself looking out over the water, while sitting in the pool, sipping a glass of champagne. Or, under an umbrella with a cool cucumber water. This is the perfect feels-like-vacation spot. Oh, and it happens to be in an awesome resort, with a great restaurant, so that doesn't hurt either.
Meals at Hot Tin Roof are always a treat. I can generally found there for their Sunday brunch (now on Saturdays, too! A great deal at $49 all you can eat, plus unlimited mimosas and Bloody Marys.) But dinner is really good, too. I am pretty sure I ate all of the baked goat cheese appetizer (yes, there was a table of 12 people; yes we ordered three of the goat cheese things, what is your point?) Everyone enjoyed what they were eating – and it was all over the map: yellowtail, lobster mac and cheese, flatbreads, shrimp al ajillo, to name a few.
Of course no meal where I am invited to socialize with others is complete without me showing off all of my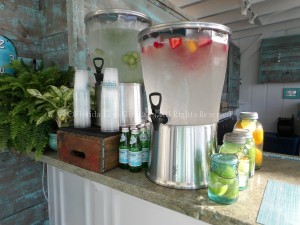 clumsiness. As I was chatting – rather exuberantly, with my hands – I managed to knock over my wine glass. Of course it was red. I also managed to shatter my appetizer plate. But somehow, I managed to not spill on myself, or the person sitting next to me, so overall that is a win.
If you are visiting Key West, I cannot recommend Ocean Key highly enough. Plus, if you are staying there you can enjoy LIQUID, and those yummy cocktails. Give me a call, and I'll get your trip planned!