By the second day of our trip, I was beginning to get the hang of Vancouver weather: if it is not raining, and the sun is shining, seize the moment. When we woke up on a sunny Tuesday morning, I knew that was the time to head to Capilano Suspension Bridge Park. (It's the one in every brochure and marketing piece about Vancouver. While I was at a cruise industry trade show recently, the Vancouver reps agreed that it was a must on any visit.) Plus, there is a free shuttle from downtown, which adds to the overall user-friendly nature of the city. 
We stopped for breakfast at Scoozi, where we enjoyed complimentary steamed milk for our coffees, as well as French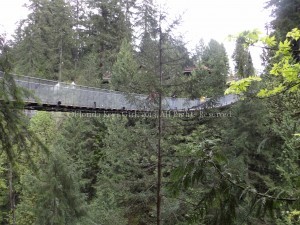 Toast and a casserole/baked omelet thing that was filled with eggs, veggies, tomato sauce and cheese. All around yummy.
After we were fortified for our adventure, we headed to Canada Place to catch the shuttle. We also bought our tickets for the park there (about $33/person). The ride is a quick twenty minutes, and the driver gave us an excellent tour along the way. Once entering the park, there are three main attractions: the main suspension bridge, the Treetops adventure and the Cliffwalk. We did them all. Many of our photos were lost to FKGuy's failed phone, but I still have a few.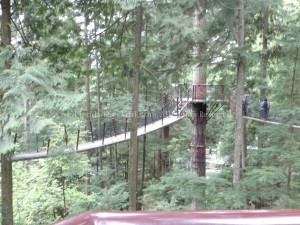 The main suspension bridge is much longer than it would seem, and is very, very wobbly. In fact, the woman that wandered across just ahead of us was heard shouting at the others in her party as she stepped off the bridge, "Doesn't move? My ass!" (Adding to the hilarity was her British accent and obvious disdain – at least at that moment – for her fellow travelers.) Apparently, they led her to believe something that may have only been a light, fluffy version of the truth. There was to be more of that during our trip.
Once across the very unstable bridge, there is plenty more to see. First of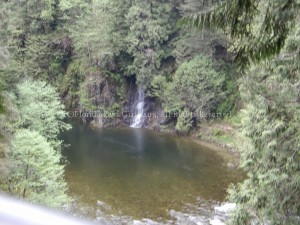 all, the trees and lush forest are beautiful. The Treetop path was fantastic. A series of small, not terribly wobbly, suspension bridges with little perches for photos and views in between, it is a scenic and relaxing way to absorb the stellar views.
Cliffwalk, on the other hand, juts out from a granite cliff. It is high, narrow, and in parts has a glass floor. It is somewhat vertigo-inducing, but in a good way. It offers stunning views of the park. (Stunning views are yet another recurring theme to this trip.)
Nearing the end of the Cliffwalk, it began to rain, but our timing could not have been better (plus, we had umbrellas). We finished our jaunt just as the pouring began, and as the shuttle left to return downtown. It was an excellent use of the several hours of sunshine.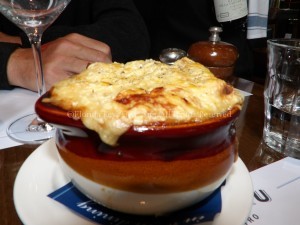 Once back in the city, we took some refuge from the rain at Pacific Center, a lovely mall. But when it came right down to it, (a) we didn't need or want to be shopping, and (b) it was nearly lunch time. So, off we went to Tableau. Because, frankly, when it is cold and rainy, nothing sounds better than French Onion Soup.
We arrived kind of soggy, and definitely chilled, but were greeted warmly and shown to a table by the window. Tableau, a lively French bistro was packed with people on their lunch break (many of whom were also enjoying the soup, I noted.)
After our shared soup, I ordered the Steelhead trout with brown butter,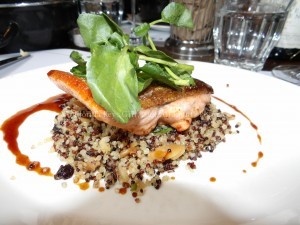 quinoa with almonds and cranberries and it was perfectly cooked, fresh and one of those dishes that once you taste, you instantly regret the moment you agreed to share it in the first place. It was that good. FKGuy had the mussels frites, which came in a gigantic pot, and were also delicious. The fries, however, were on another level altogether. These were totally worth eating. The fries alone are probably worth a return visit.
Overall, the meal was fantastic, and by the time we left, the sun was shining again. It was time to walk off lunch, take a quick nap, and then meet up with our Key West friends that live in Vancouver during the summer. More on that next time.