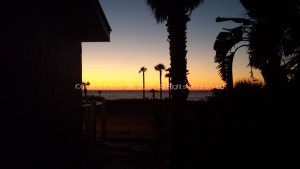 Old Florida. Quiet. Charming. Slow-paced. Carefree. Inn on the Beach is all of these things. Located in the sleepy and beautiful Pass-A-Grille, the inn is an unassuming building at the end of a small street, located directly across the street from the beach. It is the exact opposite of a large resort. There are no conference rooms, bars or restaurants here. Just a lot of relaxing, in quaint surroundings.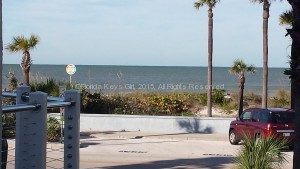 Each of the twelve rooms is unique and has been renovated. Some have sitting rooms or dining tables, and full kitchens. Many have private balconies. We only stayed for two nights, but it would be very easy to stay longer. Our room, Spoonbill, was large, complete with king bed, sitting area, refrigerator and microwave. Wifi is available at no charge, and bottled water is left in each room, compliments of the inn. Our balcony had a beautiful ocean view, perfect for watching the sunset. The bathroom was nicely appointed, but so tiny it would have been possible to brush my teeth and wash my feet off in the shower all while sitting on the toilet. (TMI? No, I didn't actually do all those things at once. But I could have.)
Service at the inn is friendly. Then again, any place with a dry erase board listing each guest and their hometown has to be friendly. our room was nicely made up, and fresh towels delivered daily. Breakfast is served in the courtyard on weekends, including bagels, muffins, fruit, juice and coffee. It was a lovely way to start the day. The courtyard also houses a BBQ grill and beach chairs for guest use. (We were there on the coldest weekend of the year, so no beach chairs needed for us.)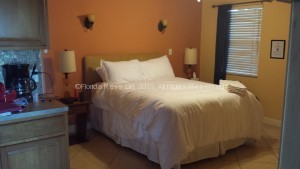 Each room is different, so I will just share a few details of some of the other rooms. White Ibis is a one bedroom suite, completely remodeled and decorated in cool, coastal colors. The suite includes a full kitchen, two televisions, and stunning ocean views.  Sandpiper is another newly renovated room. The sleek, modern kitchen and light floors give the room an airy feel. A queen size bed and private balcony make this a perfect retreat.
Pass-A-Grille is a throwback, and though there are a few restaurants, shops and bars, it is very, very quiet. St. Pete Beach is just a few minutes away, with even more restaurants, larger hotels, but a bit less charm. Downtown St. Pete  – with the Dali museum and the awesome saganaki burger – is only a short drive away, or hop on the trolley (but it will take longer).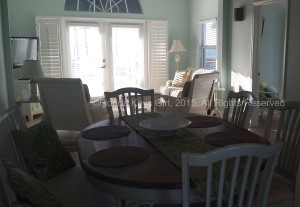 St. Pete Beach is a wonderful place for a quick getaway, and Inn on the Beach makes it even better. I am already looking forward to my return visit.
Accommodations for this trip were provided by the Inn at the Beach. Entrance to museums provided by Visit St. Petersburg Clearwater.