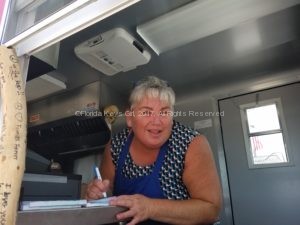 "There's a new food truck in town and I've heard they have great burgers. Want to go?" I am certain my friend Steve already knew the answer when he asked that question, as I love a good burger. Hoss and Mary's Grub Shack rolled into town from Maine in early July and settled in at Cow Key Marina on Stock Island.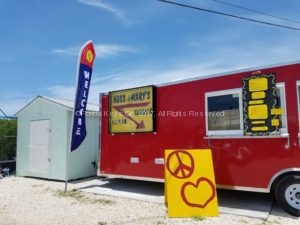 Stock Island is one tiny bridge north of Key West, and where you would find the hospital, golf course, college, and now, great burgers. While I would rather walk to lunch (or dinner), it was hot as hell outside, so the air conditioned car was a treat. We ventured north and managed to find parking without too much drama.
The bright red food truck stands out against a backdrop of stark white gravel. Mary greeted us warmly, and when I asked what came on the burger, she said, "whatever you want." The menu is small – a few burgers, and sandwiches, along with fries and a dessert. I chose the cheeseburger, while FKGuy went with a more adventurous burger, topped with onions and bacon, and slathered in hot sauce, and a monstrous side order of cheese fries.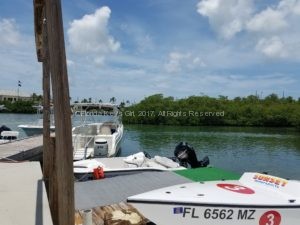 There are not too many places to sit here, so grab a picnic table when you arrive. While they could use a few more tables, and several umbrellas, board games like Connect Four and Trivial Pursuit kept us entertained for the short wait.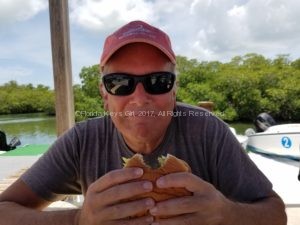 Fine dining, it isn't, but nobody comes to a food truck for white tablecloth service, and, most importantly, the food is quite good. Burgers are big and juicy and topped with whatever makes you happy. For me, that means lettuce, tomato, and sauteed onions. A sign of a good burger is the need for many napkins, and this was no exception. Fries come in a ginormous stack. Ours came slathered in gooey, messy, cheese sauce. Healthy? Hardly. Delicious? Absolutely. Sometimes you just need junk food, and it should be high-quality junk food.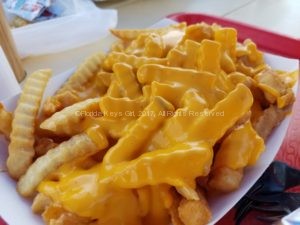 The Grub Shack also serves up Philly cheese steaks, hot dogs, and subs. But I would find it hard not to get another burger. Hoss and Mary are serving up tasty food right in Cow Key Marina, and are open every day except Wednesday. You can do take out, but at least as of now, they are not delivering.