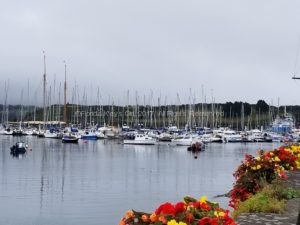 Cobh, the port of call for Cork, Ireland, may be best known as the last port call on the Titanic. Oh, and it is pronounced like "cove," in case you were wondering. Our guide and driver were waiting for us as we exited the ship, and within moments our intrepid group set off toward Kinsale. 
Pro Tip: Wear sensible shoes.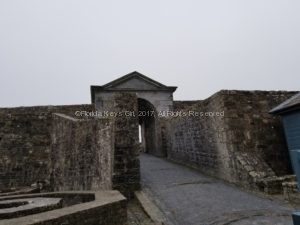 The reason Ireland is so green and lush is that it rains. A lot. We were well-equipped with umbrellas and raincoats, so a few drops (or major downpour) were not going to deter us from an otherwise amazing day. Our first stop of the day, at Charles Fort, began with an explanation from one of the guides, using a scale model of the fort. Ordinarily, I would have skipped out on that and meandered around the grounds. Alas, it was warm and dry inside, and we listened to the whole presentation. There was plenty of time to wander in the rain afterward.
Charles Fort is built in a star pattern, and what remains of it is almost entirely accessible to the public. We learned of the soldiers that got married and brought their wives to live at the fort. If you thought your cruise ship cabin is small, you should see the size of these barracks.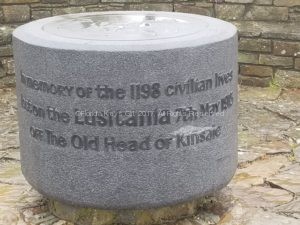 Soaked, we sprinted back to the bus, eagerly anticipating our next (hopefully indoor) stop. It was too early for lunch, so we stopped at the Old Head of Kinsale to see the Lusitania Memorial. The RMS Lusitania was Cunard's largest luxury ocean liner at the time. She was attacked by a German U-boat in May 1915, and nearly 1,200 people were killed, including 128 Americans. The sinking of the Lusitania prompted the US to get involved in the war.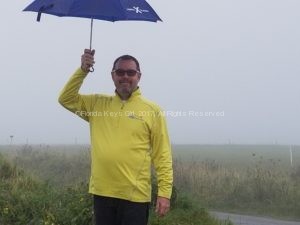 Pro Tip: Plan ahead for a good lunch.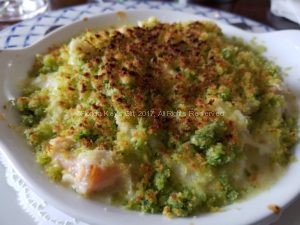 After our visit to the memorial, we made our way into the town of Kinsale for lunch. Because, really, nothing is more uplifting after discussing the unnecessary deaths of 1,200 people than fried food. Friends of some of our traveling companions suggested a good restaurant, and with a bit of forethought, I asked our guide to reserve a table for us. After all, seating 13 people on a moments notice, during the busy season, is not always easy. Fortunately, Fishy Fishy accommodated us all at two tables and by the time we left the weather improved dramatically.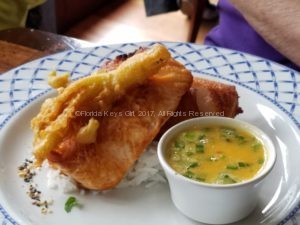 The upscale, yet casual, Fishy Fishy did not disappoint. My fish pie was divine, while the fish and chips were also fantastic. Haddock, sauteed atop greens, in a butter sauce rounded out our selections nicely. As we finished lunch, the rain subsided, and we meandered around the adorable town and into many local shops. But we could not spend the whole afternoon wandering through stores, so we met our guide and made our way towards Blarney Castle.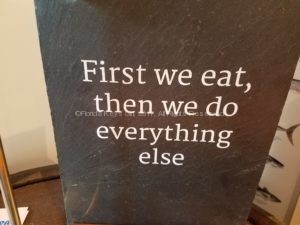 (Every time I hear "Blarney" I think of Don Cheadle in Oceans Eleven saying "Barney! Barney Rubble. Trouble." But I digress.)
Pro Tip: Go to Blarney Castle early.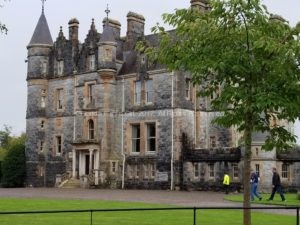 If only we heeded that advice. Alas, the line to kiss the Blarney stone was over two hours, and frankly, the whole thing creeps me out a bit. Plus, I don't really need to be any more chatty than I already am, thankyouverymuch. We strolled through the perfectly manicured gardens and marveled at the Poison Garden, complete with Himalayan Mandrake. Unlike in the Harry Potter movies, these don't shriek. Rather, they are just regular, but poisonous, plants.
Across the street from the castle is Blarney Woolen Mills. Many in our group enjoy shopping, and this vast wonderland of wool, crystal, and other gifts did not disappoint. I even managed to snag some birthday and holiday gifts, before making our way back to the ship. As we sailed out of Cobh harbor, it was hard not to think of those aboard Titanic, thinking they, too would enjoy their next several days at sea.