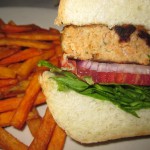 I just don't get valet parking, unless you can't walk or it is pouring rain. 100% of the time I will choose to self-park, however. Why? A)  I don't want to pay you to park my car when I am perfectly capable of walking all the way from the parking spot to the door or wherever I am going. B) I don't really want someone else driving my car. C) I really despise waiting to get my car, when I can just mosey over to wherever it is at my leisure (see point A). What really pisses me off is the guy that says "Sure, you can self-park, but you still have to pay the valet parking fee," which is what happened last night at Soyka.
My friend and I walked in to a mostly empty restaurant. As we were not that hungry, and it was getting late, we shared a few things: French onion soup, a salmon burger and a glass of Paco and Lola Albarinho.
The waitress was friendly, until she realized we would have a rather small bill. Then she was nowhere to be found. The menu is varied with a lot of choices including salads, sandwiches, burgers and more.
I would give the food an OK. The soup was good, but I really don't think that is so hard to achieve – everything is better when it is slathered with melted cheese. I asked in advance if the salmon burger was, in fact, a burger (ground salmon) or just a hunk of salmon slapped on a bun and called a burger. It was, in fact, ground. The first bite I had tasted exclusively of cumin. It got a little better after that, but it really was a pretty bland, dry patty (except for the first bite). Kudos for putting a ripe tomato slice on the bun, instead of a sad, pink one that is often seen hidden in a bun.
The high point of this restaurant is the garden out back. If it was not 200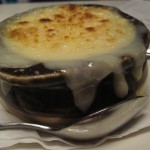 degrees out, I would have gladly sat outside.
This is the problem with many restaurants in Miami: they are mediocre at best, and yet, think they are really good. Next time I'll try some other overpriced place instead, or maybe I will luck out and find someplace actually good. What are your favorites?