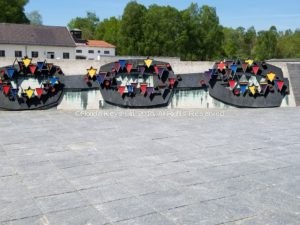 An overnight flight hardly ever leaves a person feeling rested and refreshed, even if you have the luxury of traveling in business or first class. Our long flight from Philadelphia to Munich was in coach, so there was clearly no hope of feeling perky upon arrival at 6:15 the next morning.
Bleary eyed, adjusting to fluorescent lights, grabbing our luggage, and making our way through the airport, we exited customs to find a Uniworld representative waiting for our flight, sign in hand. She made our airport exit swift, and a short bus ride later, we checked in to Roomers Munich, a 5-star Autograph collection property.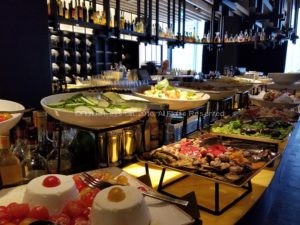 THE HOTEL: ROOMERS MUNICH
The beautiful art-deco-meets mid-century-modern furniture is beautiful, but marred by the pitch black bathrooms and hallways. The black walls of the hallway, along with black carpets, making seeing difficult even for those without vision issues. Bathrooms in the guest rooms were not much better, and applying makeup or shaving proved to be more challenging than one might think. It is nothing short of a miracle that I left the room looking presentable.
Perhaps the best part of the stay came at the very beginning. We checked in at 7:30 AM and our room was ready, enabling me to take a quick nap on the rock hard mattress, readying me for the rest of the day. Breakfast, included in our rate, is served in the overly fancy restaurant, Izakaya. The buffet is so large that it spans two rooms and offers just about everything possible. Bread, cheeses, yogurt, salads, smoked fish, and more are beautifully presented, while made-to-order eggs and avocado toast are available to order from the servers. Mimosas and Bloody Marys are always a bonus.
THE HORRORS OF NAZI GERMANY: DACHAU
But that day was not about breakfast. Instead, the first stop on our Munich tour was Dachau Concentration Camp. An easy 15-minute train ride from the center of Munich, I find it appalling that more people do not go. I understand that on vacation you may not want to think about genocide and mass murder, but this is an important part of recent world history.  I urge you to visit a concentration camp if it is near where you are traveling. Unfortunately, there are many choices in Germany, Austria, and Poland.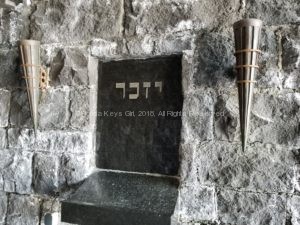 Perhaps the thing that struck me most about Dachau is the size. It is enormous. I don't know what I was expecting, exactly, but it certainly puts one thing into perspective: It is clear from sheer size of the camp, the number of ovens used to burn corpses, the number of guards and troops, that I do not believe that there was a single person that could live in the surrounding town and not know what was going on.
Hearing stories of millions of Jews being gassed to death, and standing in the gas chamber, adjacent to the crematorium, seeing with my own eyes where these atrocities took place, brings another level of understanding. It is also an important reminder to speak up, through action, charity, and most importantly, voting.
But our trip was not all serious. After spending the morning at Dachau, we made our way back to Munich for a quick lunch, followed by the ever-important, post-red-eye nap.
Pro tip: Double check distances. Don't assume that the map your hotel has given you is to scale.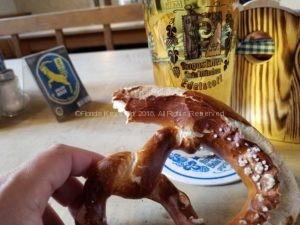 Awake, showered, and in clean clothes, we headed out to meet our friends. We had met this couple on a cruise two years earlier, and were looking forward to seeing them. "Meet at 6:10 at the Marienplatz, near the middle column." Clear enough, I thought, as I looked at the map and it seemed to be about a 15-20 minute walk. I was wrong. The not-to-scale map clearly messed me up, and it ended up being a 45-minute walk. I apologized for being the typically late Americans, and we went on to have a wonderful meal.
Our friends are British and Hungarian, but have been living in Munich long enough to speak fluent German. This is helpful, as the extent of my German knowledge is Bratwurst, Schnitzel, and Spaetzle. My friend, David, translated nearly the whole menu for us before realizing that we had an English version.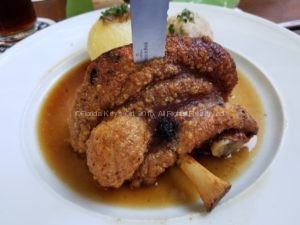 Pro Tip: When you are traveling, learn a few words of the local language. I like to make sure I can say Please, Thank You, and Where is the Bathroom?
Wirsthaus Zum Straubinger is a typical, yet amazingly delicious, typically Bavarian beer garden. Overwhelmed by the number of pig choices on the menu, I opted for the seesaibling, or better known to me as "fish". The arctic char was some of the best food of the entire trip. Everyone else enjoyed their dishes as well. But the inviting outdoor garden on a crisp spring evening, made the entire night perfect.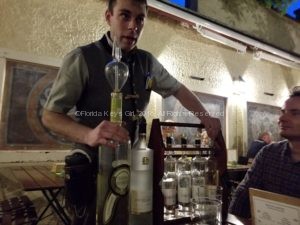 After dinner, our server came over and asked if we would like some schnapps. Obviously the answer was a resounding "yes!", and he came back with several choices. All I heard in the recitation of flavors was "blah, blah, blah, HAZELNUT – It tastes like Nutella, but boozy."  The flavorful, strong shot of deliciousness turned out to be the perfect way to end a meal. And also, to start a lifelong quest for the best Hazelnut schnapps. Our friends told us to try the Prinz version, which is only available in Austria. We had quite a quest to find it, but more on that later.
Our friends put us on a tram in the direction of our hotel, and with the promise of more adventure the next day, we bid them farewell. Halfway through the tram ride, we stopped. Apparently, there was a tram accident just ahead, and nobody knew how long it would be until t was cleared. We ended the evening much like it started: with a longer than anticipated walk.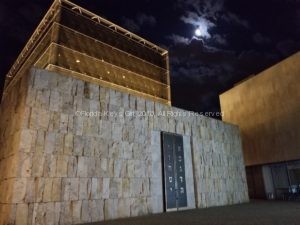 Stay tuned for Munich, Day 2.