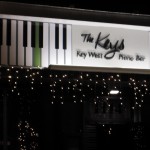 In the space that formerly housed Alice's restaurant, now stands The Keys piano bar. People in the crowd get up and sing, the waiter gets up to sing, patrons sing along with the piano player. Of course, in typical Key West fashion, a song was introduced with this opening line: You know guys, if you are wearing a suit, or tight jeans or a leather outfit… Only in Key West.
So, it is a nice place to hang out, certainly, but of course there is one pet peeve. We had 2 drinks – a Bookers, neat, and a Bookers on the rocks. When we got the check, they charged $1 more for the drink with ice. Really, are we in an area where ice is a rare commodity? I don't think so. It is bad enough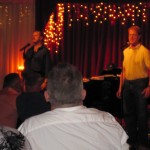 you charge $12 for a drink, in a town wher that is certainly pricey, but to charge extra for ice? And when I questioned it, mostly because I was surprised, the waiter said "I know it is ridiculous, but they make us charge extra." Then a woman comes over and shows me the menu, where at the bottom it states that, in fact, they charge extra for ice. Had I seen the menu, I would have known this, but no menu was ever brought by for our perusal. Oh well. Next time I will go for the $5 beer, unless they charge extra for the glass.