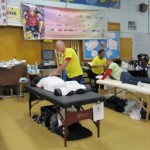 Living in Key West there are constant reminders that AIDS is still taking lives – there are fundraisers all the time. In other parts of the country, especially those parts with a smaller gay population, fundraisers and awareness are not so prevalent.
Each year for the past six years, hundreds of people have joined together to ride their bikes 165 miles from Miami to Key West. It is an impressive undertaking for sure. Months of training, fundraising and preparing. This year my friend Alex rode (pictured below, on the right). Day one was 100 miles of bright sunshine and mild temperatures. Day 2 brought wind rain and temperatures in the 40s. Yet on they went, over the seven mile bridge, in line forever at Baby's Coffee to use the bathroom, freezing their butts off.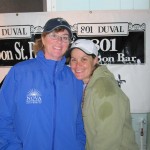 The parade welcoming the riders to Key West was cancelled, and instead the closing ceremony held in a school cafeteria. Nonetheless over $400,000 was raised and of that money 100% goes directly to charity. As a bonus, due to the cool weather, nobody passed out during the closing ceremony this year, as apparently happened last year. If you know someone doing an AIDS ride, walking for breast cancer or some other good cause, support them, as they are doing it for a good cause. As we were reminded today, in the past 28 years, over 25 million people have dies of AIDS and plenty are still fighting. Let's not get complacent now.