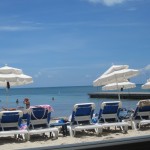 Imagine relaxing on a cool, breezy day, palm trees swaying, sitting in the shade with a view of the beach and a cocktail in hand. OK, it felt like it was 200 degrees outside and I was drinking iced tea, but you get the idea. Like many other businesses in Key West, everyone thinks they are the Southernmost something-or-other.  For the Southernmost Beach Cafe, the name is accurate at least for the moment – they are the cafe that is furthest south on the actual beach.
It is a typical on-the-sand type of place in that the lunch menu consists of mainly salads, sandwiches, burgers and big, fruity cocktails. I recently enjoyed a post-tennis-playing lunch here – always a bad idea to go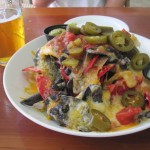 out because I order way too much food. ("I just burned off 953 calories – I can eat whatever I want!") Then the giant plate of nachos arrives slathered in black beans, jalapenos, salsa and cheese and I wonder what, in fact, I was thinking… Despite the yumminess factor, we did not manage to finish the nachos.
We also enjoyed a spinach salad topped with mahi-mahi and a veggie burger. I love the burger selection here. First, choose your patty: beef, turkey or a spicy veggie burger. Next, pick some toppings from a good selection of cheeses, veggies and more. Finally, choose a side dish to accompany the built-to-order burger. My concoction was a spicy veggie burger topped with pepper jack cheese and sauteed mushrooms with a side of fries. Yum. Of course I could only eat half of it after all of those nachos.
Service was good here. I did not have to wait on the iced tea refills, and I needed quite a few, as the extreme heat combined with 3 hours of tennis made me thirsty.
I would certainly go back, but it is unlikely I will ever try one of their super-sized 60 ounce cocktails. It just seems like a bad combination with the sun. Next time will, however, involve a post-lunch nap on the sand.