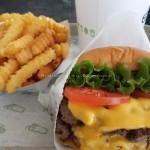 Everyone I know goes on and on and on about the great Shake Shack. In fact, Shake Shack (the original one) is where my cousin ended her thirteen years of vegetarianism. So last week, after furniture moving and medical supply stores galore, my friend and I ventured over to the one in Boca Raton. 
I love a good burger, so I was really looking forward to it. Shake Shack was, I believe, the beginning of the burger-chain-popping-up-everywhere trend, and has a cult-like following. But I will say (and I know I will get a serious amount of flack for this): I don't get it.
The tables, made of recycled bowling alleys, are incredibly cool. I love the fact that they have beer and wine. I love that they are environmentally conscious.
The menu consists of burgers, hot dogs, fries, shakes and frozen custard. I did try a sip of the Fair Shake, a creamy mouthful of deliciousness in the form of a coffee shake. The burgers and fries are fine, but I just can't get excited about them. Yes, the fries are good, but honestly, how bad is a French fry ever going to be? The burgers are thin patties, which I know is all the rage, but I like them a bit thicker. Also, you have a choice of lettuce, tomato, onion, pickle and American cheese. That is it for toppings.
I know there are purists that don't like anything on their burgers, but I am not one of them. Give me sautéed mushrooms, grilled onions or some jalapeños any day.
On the plus side, there was no line the day we were there, which seems unusual, so we did get instant gratification. But overall, as far as these things go, I was not overly excited about Shake Shack. It wasn't bad, and I would certainly go back if it were convenient. But would I wait in line? Nope. Would I go out of my way? Not so much.
Am I the only one that feels this way? I'd love to hear your thoughts.