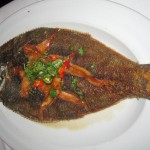 Charming, independently owned restaurants, with good food and service are not abundant in Washington, DC suburbs, particularly Reston. Last weekend, while visiting, we found ourselves at Passionfish in the Reston Town Center. It is part of a mini-chain of various restaurants in the Washington area owned by the same restaurant group.
The space is nicely decorated, but huge. They can seat several hundred people at a time. The service was attentive. The food, however, was very good. I had a spicy tuna roll, which was outstanding. Even my father-in-law tried a piece. He won't be having sushi again anytime soon, but an A for effort in the raw food consumption. I also had a Caesar salad, which they top with gobs of creamy blue cheese and a dressing that says "helloooo, we are not skimping on the garlic or anchovy." It was wonderful. At our table was the whole crispy flounder, which was expertly cooked and light and flaky. The blackened tuna was served with a spicy fried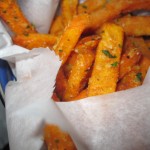 rice, and although I found the dish to be overly salty, it was quite tasty as well. There were five of us, so there was plenty of food to be sampled.  The side orders of French fries and hand cut sweet potato fries were crispy and perfectly salted. I give the edge to the sweet potato fries. Plus, both come in a big bucket, which is always fun.
For dessert we shared a peach cobbler and warm donut holes served with a coffee cream. Wow. The peach thing was good, but those donuts were spectacular. A light dusting of sugar, surrounding a pillowy soft, not too sweet dough, with a dollop of coffee cream on the side. I'd go back just for those.
Overall, the restaurant was quite good. Like most other places in Virginia, the wine list was absurdly expensive and the choices mediocre. We managed to find a nice Dolcetto D'Alba for $49. The food and service, however, were very good. If you are in the area, or have a several-hour layover at Dulles, give it a shot.